*This post may have affiliate links, which means I may receive commissions if you choose to purchase through links I provide (at no extra cost to you). As an Amazon Associate I earn from qualifying purchases. Please read my disclaimer for additional details..
In homes across the U.S., the couch and sofa serve as the focal point for living rooms, TV rooms, sitting rooms, and other areas. They're usually the largest piece of furniture in a home collection, and come in a wide range of costs and styles.
If you take a look online or visit your local furniture stores, you'll see couches in different colors, cushion counts, and shapes. How can you choose?! There's certainly a lot to consider when you're shopping for a couch.
Whether you're buying a new home or want to upgrade a space in a house you've lived in for a while, knowing a bit about sofa and couch types will help you make the right decision.
Do you go for something classic or mid-century modern? A lounger or a sectional?
Odds are you're going to be investing anywhere from a few hundred to several thousand dollars on a couch. That makes getting the call right vital.
With a good couch in the right place, you'll love being in your home, sitting on it for a read, or inviting friends over for dinner and some games.
We've put together a list of some of the different types of couches and sofas organized by design to help you in your search.
Things to Consider Before You Buy
The perfect couch or sofa meets you in the middle when it comes to function and design.
Getting that modern sofa that comes in a white fabric may seem like a good idea at the time, but if you've got young kids at home, all it takes is one juice spill and you'll regret the purchase.
Before you buy a couch, you need to consider how often you're going to be using it, how it will work given the current design theme in your space, and how long you'll want it in your home.
It's true that, often, the more you pay for a couch, the better quality you'll get. Spending extra on a couch or sofa you love will probably pay off because it will stay in great shape for years.
Bargains are great, but you could be dealing with lumpy cushions and faded fabric before long.
When buying a couch, comfort should always play into the purchasing decision. It's got to fit well in the space and also be fun to sit in.
No one wants to watch TV at night on the weekends laying down on an uncomfortable couch with nowhere to put your head.
Think about the room, what it's used for, and let that play into which couch you ultimately decide on.
That said, let's get on to the different types of couches and sofas out there.
1. Sectional Couches
Let's kick things off with one of the most popular styles of couches over the past decade. Sectionals are extremely popular.
Sectionals are versatile and can be customized to fit well into a basement TV room or to help break up the space between the kitchen and the living room in an open floor design home.
Most of the time, sectionals come in an L-shaped or U-shaped format that can be configured in any room.
Sectionals come in all different types of materials and colors. You can find some with large, comfy armrests, and some without depending on your preference.
They usually come in different sizes, or sections, based on how big you want them to be.
Some sectionals have leg rests that come up, and others come with ottomans that make lounging so much more enjoyable.
Most of the time, you're going to get sectionals with large cushions that look boxy because it helps furniture makers build more of them and give them wider appeal.
If you want a custom sectional, be prepared to pay a bit more, but they'll look fantastic as a one-of-a-kind piece in your home.
2. The Lawson
Next up on our list is the Lawson couch. The Lawson first arrived on the furniture scene in the early 20th century. It was introduced as a more simple couch that strayed from some of the ornate designs of the day.
The Lawson is defined by clean lines and is what many people think of when they imagine what is a "standard" couch style. One of the signatures of this design is that the back cushions are not attached to the frame.
It's all about proportion when we're talking about the Lawson couch. Generally, it's going to be a balanced design that features matching back and seat depth length.
The arms are usually flat and not overstuffed with cushioning. It's your classic, basic couch that will go well in most rooms.
If you're buying a Lawson couch, your main concerns are usually going to be size and material. They come in a variety of colors and you'll need to decide how many cushions you want.
These couches look terrific with some accent throw pillows on top and will do well in a formal sitting room or the family room.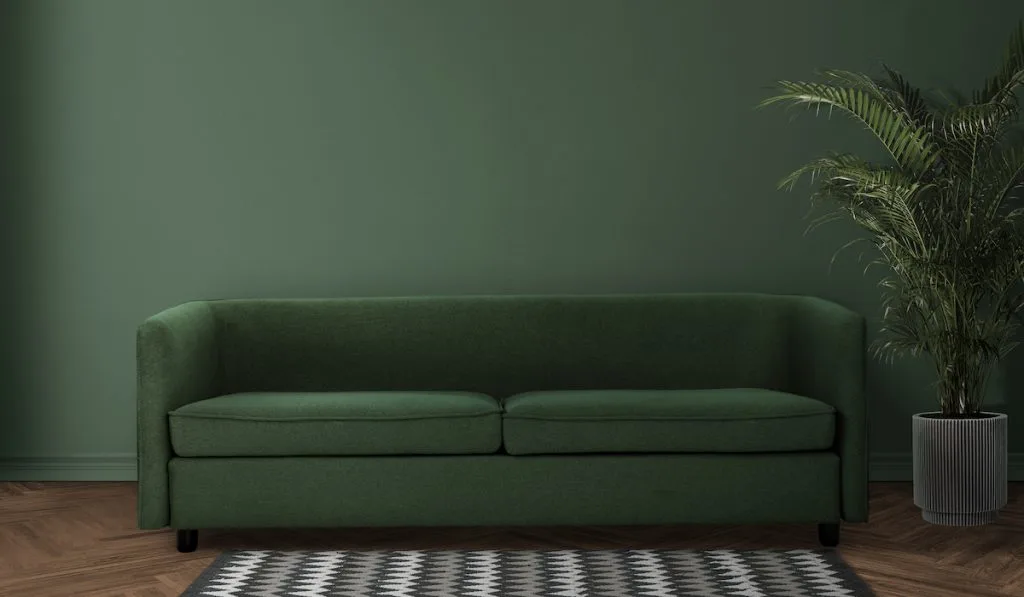 3. The Tuxedo
The Tuxedo sofa first hit the interior design scene in the 1920s. Its name comes from Tuxedo Park in New York.
Many people credit the Tuxedo sofa as part of the movement that moved interior design out of a preference for Victorian flare and into something more sleek and clean.
The Tuxedo looks like it belongs in a high-end home or hotel, so it's named quite properly. These couches tend to look more modern than the Lawson and some other similarly-styled furniture.
You can spot a tuxedo couch by its minimalist appearance with high-end finishes. The arms are thinner than you'd expect, and they match the height of the back which gives it an air of elegance.
The legs are usually thin and short to bring most of the attention to the sofa itself.
Sometimes Tuxedo sofas have cushions on the inside of the arms for added comfort, but most often they have minimal cushioning.
You can find these sofas in a variety of fabrics and colors. These do tend to be pricey, though, and you'll find them in a lot of higher-end furniture showrooms.
4. The Daybed Sofa
Daybed sofas are essentially twin-sized beds that can function as a couch. They're great for one or two people to lounge in and read a book, sip some tea, or whatever else suits your fancy.
Because this design style is more of a category, you can find daybed sofas in about every shape or color that you can imagine.
These couches come in fabric and leather, have all sorts of leg options, and feature modern design as well as shapes that are more classic.
Some even come with the option to have a trundle bed underneath the main mattress area for extra guests.
People with kids love these couches because, if your child is having a sleepover, all you have to do is pull out the trundle and you're good to go.
As the name denotes, daybeds tend to have larger cushions to make them comfortable when they need to be used as a bed, so plan on lush pillows.
Some daybeds come in configurations where the armrests flatten out, turning it into an actual bed. All you have to do is throw on some sheets and an extra pillow and your living room because overnight guest-friendly.
5. The Bridgewater Sofa
Bridgewaters sofas offer a contemporary feel to what can be confused for antique design. It's like someone with a passion for antique couches dreamt up what they would look like if they were made in the modern world.
They've been around for decades, though, so you probably will see a lot of antique Bridgewater sofas in small furniture stores.
High backs and low arms are a trademark of this design style. Traditionally, Bridgewater sofas had skirts on them to hide the couch legs, but modern design trends mean that you'll see a lot of them without legs.
Most Bridgewater couches come with two large cushions that are plush and comfortable. Many of them come with wheels on the two front legs that make them easier to maneuver on carpets and hardwood floors.
These couches are built with springs underneath the cushions. Owners and other people who sit on them will enjoy how bouncy the seats are.
Bridgewater sofas are a favorite of people who love to find older couches and refurbish them to look more modern.
Today, you'll find them with metal arms, different materials on the legs, and other unique accents that bring them into more of the modern design world.
6. The Contemporary Modern
We've already covered mid-century modern, so what about contemporary modern? You'll find a lot of the same basic design fundamentals in the two design styles, with contemporary modern design taking things a bit further.
Contemporary modern design couches have hard edges and slight curves. There are often metal features incorporated into the design, whether a metal border, back, legs, or arms.
Contemporary modern couches are a lot of what you see in office lobbies. They come in a lot of black leather.
They evoke a certain vibe, so you need to be careful when buying a contemporary modern couch. They can quickly overpower a room, so it's best to blend it in with a lot of classic style elements.
A sleek modern couch will go great with an antique coffee table and some mid-century modern light fixtures.
The contemporary design comes in a lot of bold colors; they're perfect for people who want a statement piece. They might not be the most comfortable couches, but they're nice to look at for people who love modern design.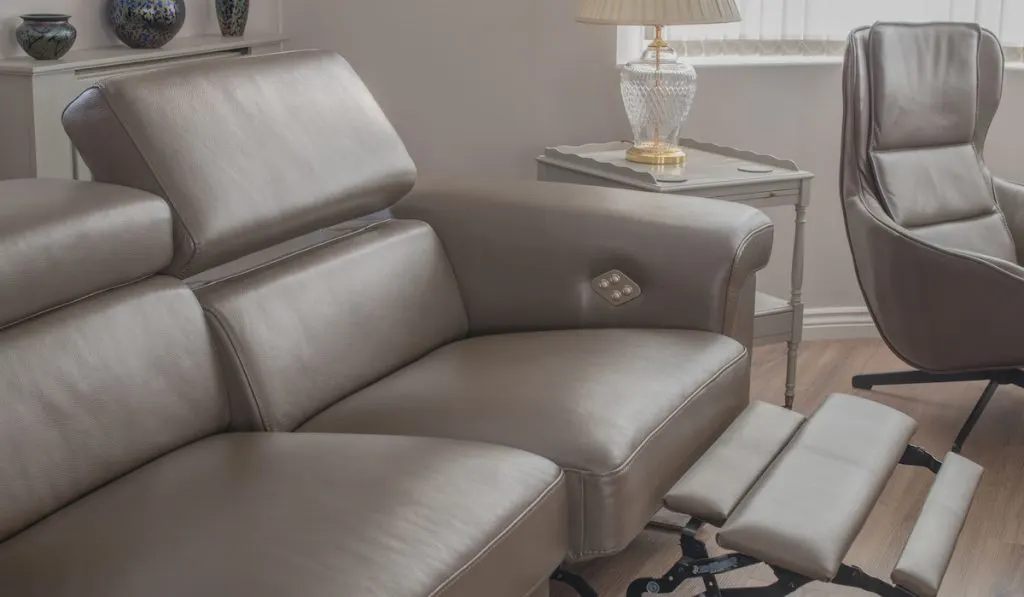 7. Recliner Sofas
Much like the daybed sofa, the recliner is more of a category than a type of design. These sofas recline! If you're looking for something that may not win any special design awards but is great for watching the game or taking in a movie at night, then a recliner sofa is for you.
They come in all colors and you can find them in fabric or leather. They feature plush cushions and some have leg rests that come up as you recline.
Typically, recliners have some sort of handle or lever located on the side of the couch that you pull to spring the mechanism.
Some recline back making it comfortable for a mid-afternoon nap while others only recline slightly like most airplane seats. Either way, they're awesome to have in the playroom or if you've got a home theater.
8. The Cabriole
The Cabriole almost looks like one of those teacup rides you see at the amusement park. All you'd have to do is split one in half and you've got a Cabriole sofa. It has a back and arms that are an equal length that is all one piece.
Many Cabriole couches come in Victorian-style designs. The outside edges and legs are wood. They are often painted in different colors with ornate engravings inside different parts of the couch.
The center of the back is maybe a bit larger with some sort of added design feature. The cushions are plush, and many antique Cabriole sofas come in velvet and other soft materials.
Modern Cabrioles ditch a lot of the engraving and wooden accents and stick to the classic shape with a more updated style. You'll see them in leather and fabric in different colors.
9. The Camelback
You can spot a Camelback couch from a mile away. Their very distinct humps on the back give it the name.
Some come with multiple humps over each cushion or they have a single, larger hump in the center of the back. The back edge runs continuously into the arms, making it a single, smooth piece.
Camelbacks typically have exposed wooden legs. The tops of the humps are also often made of wood, though they can also be fabric.
It's a classic design that you'll find a lot in antique shops or modern furniture stores that want to evoke the sense of a bygone era.
These couches draw a lot of attention. They go wonderfully in a sitting room or a parlor, but may not be the most comfortable to lay down on. The leather ones, in particular, are comfortable with thick cushions that will last for years.
10. Mid-century Modern Couches
Mid-century modern design is making a comeback in many homes. It's always been popular, but as more people express interest in the design details of their house, they tend to prefer the classic clean lines and the aesthetic of the mid-century modern design.
With mid-century modern couches, you're getting minimalist design without much fanfare. You won't see any engravings or oddly-shaped armrests with these.
It's a good design at its simplest. Couches are built to look good and provide the comfort that people want.
Most of the time, you're going to find mid-century couches in fabric with neutral colors. They often feature geometric designs with fewer curves than other popular couch styles.
One of the keys to mid-century modern design is an emphasis on contrast. Whether that's contrasting color, shapes, or materials, you'll typically find something of the sort with these couches.
Think of a neutral fabric sofa with dark wooden legs, or large rectangular cushions with smaller armrests.
As you shop for different couches, you'll often see other couch designs with the mid-century model label on them as well. This is due to the design category's popularity.
Furniture makers will take some of the minimalist approaches with other categories to make them more stylish and attractive to buyers.
11. The Loveseat
Loveseats are like mini couches. They're smaller than your average sofa, meant for two people. They're called loveseats because people sitting on them are closer to each other and it's great for couples who want to cuddle after a long day of work.
These days, you can find loveseat Camelbacks, Cabrioles, and other styles. These are ideal for smaller spaces like a reading nook or to put in a master bedroom next to the wall with a coffee table.
If you're buying a furniture set for a living room or a TV room, odds are you'll get one full-sized sofa, a loveseat, and a lounge chair. Maybe an ottoman will be part of the deal. Loveseats round out rooms or make hard-to-design rooms look great.
12. The English Roll Arm
These couches are known for softly rounded arms that are much lower than the sofa back. They're cushioned all over the arm, so they're perfect for a snooze or people who sit on them for a long time.
English Roll Arm couches are designed for the arms to be at the perfect height for resting one's arm while reading a book or simply lounging.
As a result, a lot of people think they look too low. Once you sit in one, though, you'll realize that the original designers were going for maximum function. They are super comfortable.
Again, the English Roll Arm will come in almost every color imaginable with several fabric options. The legs are either skirted or bare and can range anywhere from basic begs to ornate wooden legs.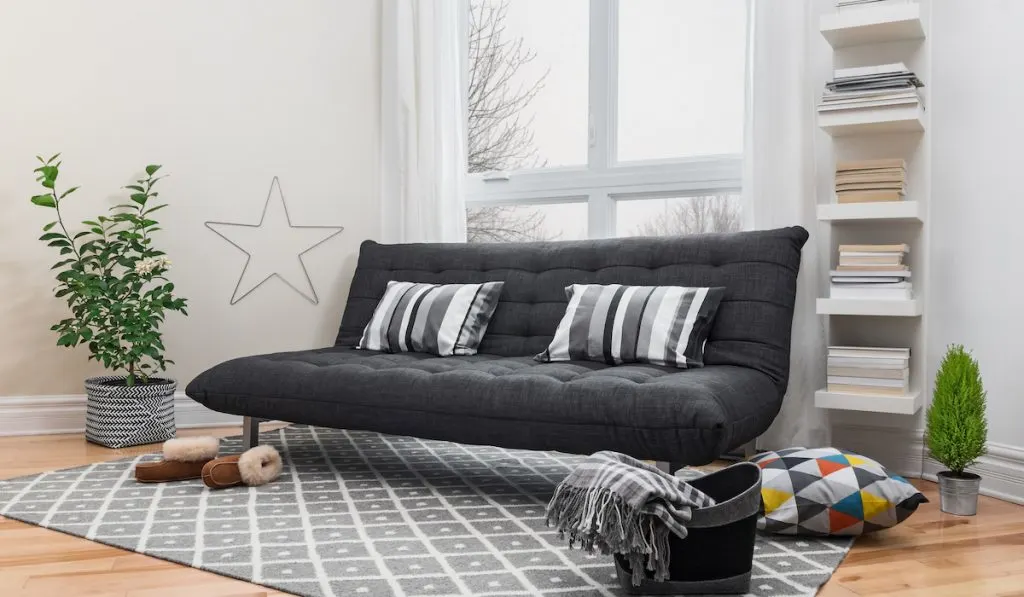 13. Futon Sofas
The futon sofa is another design category for people who regularly host overnight guests. If your kids love sleepovers or you live in a New York City apartment with no room to spare, then a futon could solve many of your hosting challenges.
On a very basic level, a futon is a couch that can turn into a bed and vice versa. It usually has a mechanism that keeps the back upright when you use it for sitting.
However, when released, the back reclines all the way to make a single flat surface that is usually the size of a double bed.
The mattress is made of sofa cushions and it's easy to manipulate into place to make it comfortable for whoever is going to be sleeping on it.
These are, on average, budget sofa options. They're fantastic for people just out of college or for families who need a budget sofa for a guest area in their home.
14. The Divan
Divans look like they belong in a classic black and white movie full of glamor and glitz.
These couches are notable because they don't have a back. Just the cushions are arms. They usually go up against a wall with throw pillows lined up against the back for a luxury look.
These are not your traditional couch choice, especially not these days, and you won't find them in your average furniture store.
You'll probably have to go looking in antique shops or talk to custom furniture makers. That can mean a higher price tag, but for people who love these couches, it's well worth the cost.
You can find Divans in silk, fabric, and leather. Some Divans have beautiful fabric designs on the cushions because designers can take more liberties to make up for the lack of a traditional couch back.
15. The Chesterfield
Chesterfields are unique for their tufted design. They can come in rich leather or a high-end fabric. Either way, to be a Chesterfield, they have to have tufts on the back and over the rounded arms. Some are tufted throughout to include tufts on the seat cushions.
Most Chesterfields have high arms that go as high as the back, almost like a Tuxedo couch. It's been popular for decades and continues to be a favorite for people who want something that looks luxurious, is comfortable, and will last.
Chesterfields look like they belong in your local pub or the bar of a five-star hotel. They've been around since the 18th century and were originally designed to help gentlemen sit more upright while still being the most comfortable spot in the room.
16. The Settee Sofa
Settee sofas are designer pieces that are more like large chairs than any traditional sofa you've seen. They're great in a foyer or a hallway.
Think more of a sofa you sit on to put your shoes on before you leave in the morning.
Settees are characterized by their ornate design. They often have patterned designs or painted floral designs on their fabric surfaces.
The legs, arms, and back typically come in engraved wood. These are classic antiques that, when in good condition, will fetch a pretty penny.
17. The Sleeper Sofa
Have you ever stayed in a hotel room with a pullout bed? Those are called sleeper sofas and are great for people who don't have a lot of extra space or who don't want to simply leave one of their rooms sitting as a guest room that never gets used.
Sleeper sofas usually come in neutral fabric colors. They feature Lawson-like designs, but can also come in mid-century modern, Tuxedo, and other premium couch designs.
The size of your sleeper sofa will depend on how large you want the bed to be. Usually, you can find them most often in double-sized beds or queens.
To use the sleeper sofa, all you have to do is take off the seating cushions and pull out the bed. There is a spring-activated system of bars that makes it convenient to load and unload.
18. The Belgian Arm Roll Sofa
We've already talked a bit about the English Arm Roll couch, but now let's touch on the Belgian Arm Roll.
Belgium must have been known for its design flair compared to the English because these couches are not for your faint of heart.
They feature an over-the-top design with rounded arms that extend out from the legs and sides of the sofa a good deal. Imagine something like two chaise lounges pushed together at the ends. That's sort of what these couches look like.
Belgian Arm Roll sofas are a favorite of stylish designers and come in high-end fabrics with things like gold accents and metal legs.
There is a wide selection of colors to fit your style preferences. Just be careful when buying to make sure the rounded arms will fit in the space you've got picked out.
Choosing the Right Couch
At the end of the day, finding the right couch for your home is all about delivering the right mix of comfort, style, and function. You want something that looks great, will last and is comfortable.
Knowing the different design styles of couches will help you narrow your search to find the perfect couch whether you're looking for something for the kids' room or you want to make things in your home feel more formal.
Buy something new if you want, but don't forget to check out your local antique stores. You could find a hidden gem that's ripe for refurbishing.
With a bit of effort, you can breathe new life into an older couch and keep a classic alive. Either way, good luck with your search and we hope you find a couch or sofa that you love!
Resources