*This post may have affiliate links, which means I may receive commissions if you choose to purchase through links I provide (at no extra cost to you). As an Amazon Associate I earn from qualifying purchases. Please read my disclaimer for additional details..
For generations now, various homeowners have used glass cabinets in their living rooms for storage purposes and the elegance that these pieces add. Furthermore, glass cabinets are a fancy way of showing off your favorite collection while keeping items away from dust or possible damage.
However, acquiring and simply placing the glass cabinet in the living room is not enough to bring the much-needed extra beauty that comes with carefully styling and curating the pieces you display in the new space.
In this article, I'll cover how to decorate glass cabinets in the living room. Feel free to get creative with whatever you want to display and customize the space to look however you want it to.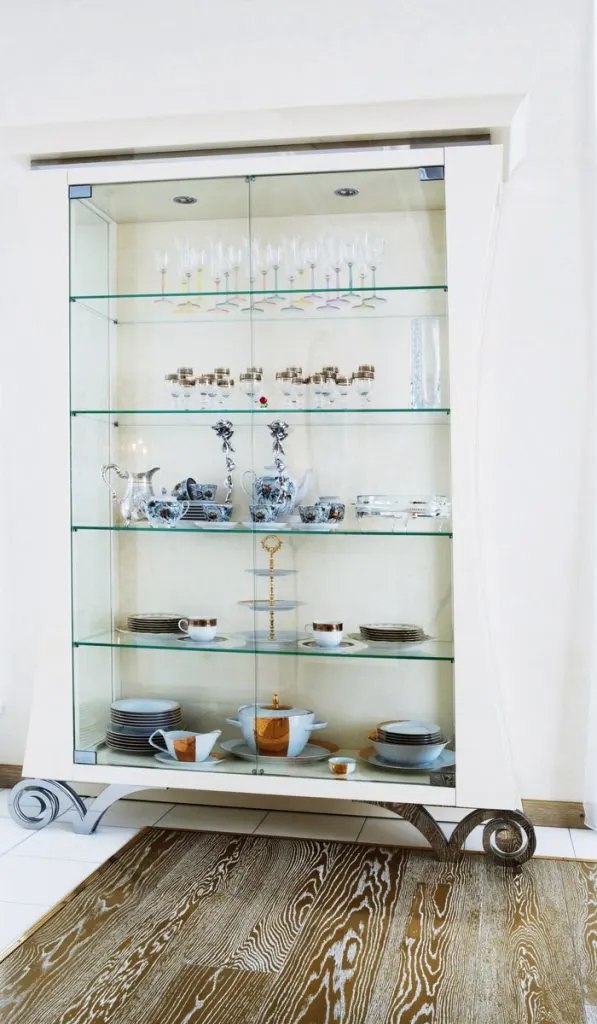 What to Display in a Glass Cabinet
Glass cabinets primarily showcase the pieces they hold, but what should you display there?
Well, depending on your taste, take your time to curate pieces based on your character, interests, and lifestyle for display, one at a time.
You could store anything in the glass cabinets, depending on what you like. Still, the best-suited pieces for display are a collection of books, trophies, medals, seashells, figurines, glassware, artistic collectables, potted plants, and even vases.
Just be careful to ensure that all the pieces are carefully put in place and are well-spaced to avoid any possible accidents.
12 Tips for Decorating a Glass Cabinet
Decorating and styling a glass cabinet is not just about the exterior looks but the selection of pieces on display and how well the presence of the cabinet complements the whole living space.
Here are 12 tips to help you achieve the desired look.
Use a Simple Color Scheme
When choosing a color scheme for your glass cabinet, select an existing color in your home to make the transition in your space seamless, rather than bombarding the area with a clash of colors.
However, suppose you are undecided about the general tone to go with or would like to add some splash of color to the cabinet. In that case, you should have a maximum of three mini color palettes for the cabinet shelves.
You can also carefully mix and match the colors of your curated pieces to complement other items in the living room, maybe the color of the couch or curtains, making the living space look more classy and organized.
Decorate the Background of Your Glass Cabinet
Come up with ways to make the background part of the display.
Add texture like rustic wood, or paint it maybe. You can alternatively install a mirror, patterned wallpaper, or decorative paper.
Other decorative ideas include hanging items in the background, all of which help you add that visual interest to the space.
Display Collector's Items
Collector's items can be a rare sight, especially if you are interested in unique pieces such as figurines and seashells.
Once on display, these unique pieces will always make the room full of character and originality, automatically catching the attention of any guest. This way, you can share more about yourself with guests without necessarily explaining anything.
Other collector's items that are suitable for display in glass cabinets are glassware, stuffed animals, and many more.
Use Mirrors
Mirrors always make spaces look more beautiful, bright, and spacious than they are. Adding one to the background of your glass cabinet will undoubtedly add elegance to the cabinet space and give a clearer view of the cabinet.
Mirror backing helps if the cabinet is placed in a rather dark spot in the living room because the mirror will help illuminate the cabinet. And if you don't have many items, the reflections in the mirror will make the cabinet look fuller.
Try Combining a Mixture of Items, Colors, Shapes, and Textures
As aforementioned, curating pieces for display in the glass cabinet should be done carefully.
People will have different pieces on different shelves, depending on how much they like the resulting display. Everyone's got their own taste.
However, glass cabinets can look more appealing if you stick to a few simple rules.
First, group pieces according to their size and shape to add visual interest to the cabinet space. Place smaller pieces so they aren't obscured by larger pieces.
Second, display pieces will look more decent and attractive if they are a blend of different accents and colors. Besides, you can always try out built-in shapes in the cabinet or any unusual pieces if you desire any.
Third, blending pieces with different postures, like vertical and horizontal, will also add visual appeal.
Fourth, pieces with different textures and tones blend better. This method is trial and error, so you might have to move a few things around once or twice, but you will get it right.
You can either design it by yourself or have a professional do this for you, but either way, it presents an opportunity for you to get creative with the cabinet space, so you can style it however you want.
Showcase Jewelry
Picture yourself walking into that classy jewelry store in town. Can you see how beautiful their displays look?
Now take that picture and imagine your necklaces, earrings, and rings arranged in your glass cabinet at home. Your cabinet could be a mini-version of what is in the store.
No matter where you keep these cabinets, your valuables are beautifully and safely kept.
Showcase Your Keepsakes
Keepsakes and trinkets are valuables you may be glad to show off in your living room, and glass cabinets are the perfect spot for them. Just be careful that they have enough space to ensure safety.
Don't Clutter the Space
When styling a glass cabinet, having a minimalist approach is the best way to go about it. Besides, it is never beautiful to stash up so much stuff in the cabinets.
Think about what goes in the glass cabinet. Find what's most important and what fits in the glass cabinets, and find some other space for the items you don't put in the cabinets.
Use Internal Storage
Perhaps you realize that there is some stuff you don't want to show off, but you still want to keep it in the cabinet. You must consider this when choosing or styling your glass cabinet.
There is nothing to worry about. Having a glass front doesn't deny you the ability to have private cabinets or drawers within.
Customizing the cabinet space to fit your needs is the most critical aspect.
Use a Repetitive Pattern
Repetitive patterns and shapes are often considered the gateway to great styling.
Having entirely different pieces with similar shapes in one space often brings a visual harmony that fills the living space since it becomes the focal point.
The different objects could be curved pieces of brass, clay, steel, wood, or other materials that perfectly complement each other when grouped.
Repetitive patterns can also be used to style the cabinet background or frame, depending on how best you want it.
Add a Potted Plant
Introducing greenery to your glass cabinet space is a sure way to boost the mood in the living room, besides adding an essence of nature and life to the space.
Plants are the color of nature, and having one right in your living room, watching it every day as it sprouts, grows, and spreads, gives satisfaction to the homeowner.
The vases holding them should also be a color or texture that complements the rest of the display. Apart from the added beauty, plants in cabinets are also a show of the homeowner's creativity.
Additionally, plants work in glass cabinets as natural air filters to sieve out pollutants in the cabinet.
Among the plants that thrive in glass cabinets are prayer plants, ti plants, club moss, polka-dot plants, crotons, and southern maidenhair ferns.
Install Lighting
Depending on what is displayed in the glass cabinet, you might consider installing integrated lights. Lighting is especially suitable for glass cabinets with mirror backgrounds in darker spots in the living room.
Depending on the fragility of the items on display and the size and shape of your glass cabinet, different lights suit different settings. Puck, string, and LED lights are suitable for various cabinet settings.
Showcase Your Cocktail Items
If you have a nice collection of drinks and glasses, turn your glass cabinet into a cocktail cabinet.
Store the liquor on the lower shelves and the glasses and accessories on the upper shelves.
However, you might have to add a few modifications to make the cabinet hold the drinks and glasses.
Conclusion
There are endless possibilities when styling glass cabinets. With the tips in this article, I hope it has given you ideas on how to go about styling glass cabinets.
There is no specific format to going about it. Find your taste and style, then get creative in choosing what to display, one at a time.
Remember to regularly clean and polish the glass because dust and dirt take away the glass's beauty. Now, have fun adding glamour to your living room!
Resources