*This post may have affiliate links, which means I may receive commissions if you choose to purchase through links I provide (at no extra cost to you). As an Amazon Associate I earn from qualifying purchases. Please read my disclaimer for additional details..
An elaborate design plan for your home is one of the most crucial aspects of your home décor and interior design.
Whether you are building your home from scratch, renovating, or just giving the place an upgrade, you want to go for lighting fixtures that blend seamlessly with the rest of the interior and with other light fixtures in the home.
So how do you achieve this seamless flow in your home?
This article is here to enlighten you on a few tips on how to mix and match your lighting fixtures so that they coordinate seamlessly throughout your home.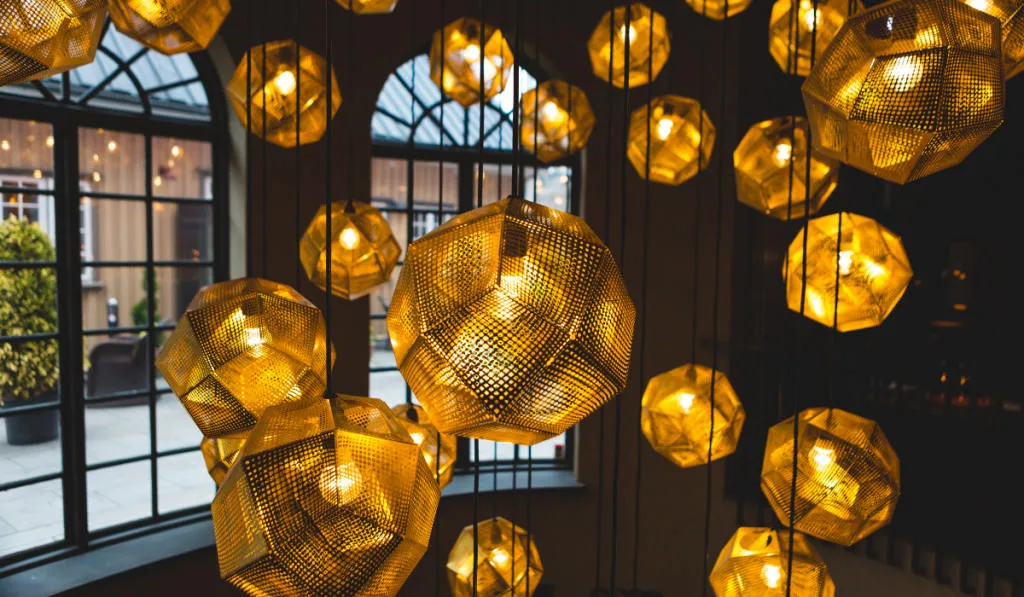 What to Consider When Coordinating Light Fixtures
Before you choose what to incorporate in your home as part of the lighting system, below are a few pointers to guide you through the process of deciding what best fits your home.
Room size – Larger rooms will naturally need larger light fixtures, which act as focal points, and maybe a few other smaller fixtures to complement the focal-point fixture.
Style of the home – In most cases, the style of your home will naturally dictate how to decorate the interior, lighting fixtures inclusive. Rustic home designs, for example, will require you to incorporate light fixtures that are not too flashy or out of place in the design.
The total number of fixtures needed – Depending on the number of fixtures required to illuminate a room, you will naturally be inclined to incorporate the available fixtures to fit the intended space without being biased or overloading one side of the room.
Location of your home – Depending on where your home is located, such as around lakes or beaches, in the city or the country, you will need to choose light fixtures that complement the environment or the culture. An example would be a Chinese-style home fitted with rustic lamps.
Budget – You will want to get light fixtures based on how much you have planned for them. Avoid going for light fixtures that are too expensive and might not even be enough for the intended space. The sky is the limit with these fixtures, and if you feel that one might not be within your budget, there are many other options.
How to Coordinate Light Fixtures
Whether you know what you are doing or don't know how to do it but want a beautiful home with a well-coordinated lighting system, you will need the help of an interior designer for a keen eye on the particulars around your home.
The light fixtures should not coordinate by themselves only but also coordinate with the whole house.
That means the lights should blend with the metal pieces, the colors, textures, and every other aspect of the home, from the entryway to the interiors.
So, how do you achieve this coordination?
Make a List of the Fixtures Needed
Blindly purchasing light fixtures with the hope that they will fit your target space is highly discouraged!
For a start, with the help of a designer, whenever possible, you should take a tour of the target space, noting down what you will need for the space and what best suits the place.
This simple activity will help you point out spaces that go well with only a specific type of fixture and distinguish them from the other areas that are more flexible, with two or more types of light fixtures as possibilities.
This survey of the intended space will also help you figure out if you need to do some more electrical work to incorporate the fixtures.
If there is a need to add some cabling, it is necessary that you first purchase the needed fixtures before doing the extensions so that you know precisely where to place the fittings.
Know the General Theme/Style/Design of Your Home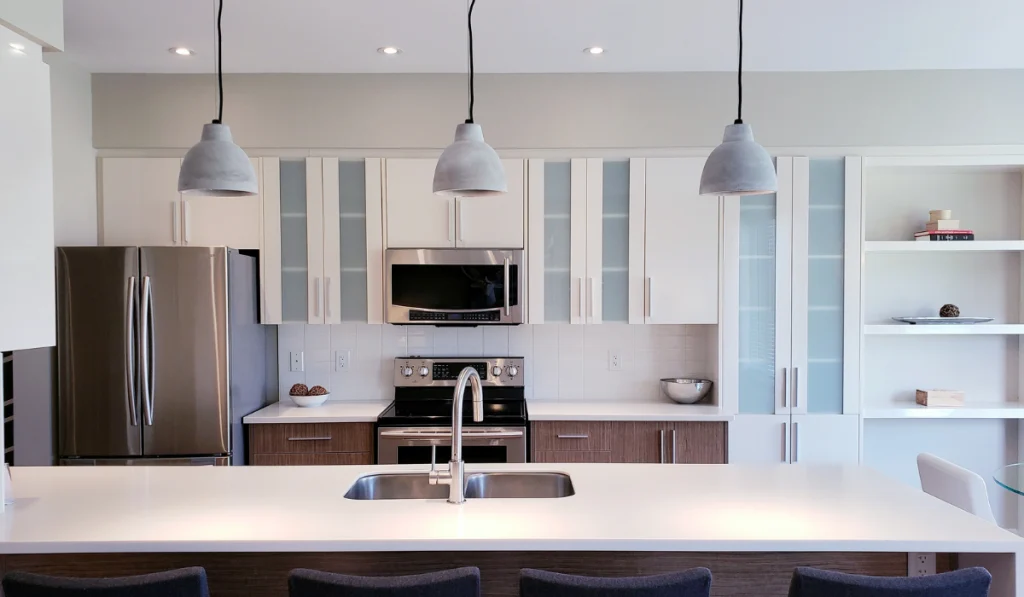 Your interior décor style will naturally dictate what to go for when choosing the best light fixtures for your space.
If you do not know your design style, a professional designer's help should come in handy.
There are also a couple of sites to help you figure out your interior décor, such as Pinterest.
Once you've got your décor right, you will have numerous options that match your space. Make sure you go for what blends in well with your room.
Incorporate Fixtures That Share Traits
Light fixtures with similar traits such as colors, shapes, styles, lines, and textures will often bring harmony to the target space by seamlessly blending in the same room without necessarily being identical.
Ensure the Light Fixtures Make the Right Statement
Carefully choose your light fixtures to ensure they complement the respective space and the light fixtures in the next room.
The entryway lighting, for example, should give a bold statement (but not too conspicuous for the space), setting the tone for the rest of the home.
Similarly, for your living room space and every other room, consider choosing different fixtures, maybe chandeliers or pendants for focal points and other lighting fixtures to complement them.
Just ensure you keep the lights close enough (less than 7 feet apart) to prevent shadows that may make your space look rather unattractive.
Do not Install Fixtures from the Same Manufacturer in One Space
Liking a product from a particular producer can be reason enough to go for another product from the same producer.
However, you do not need to install both fixtures in the same space. The matching effect will create monotony.
It might be cheaper to purchase a pack from a supplier, but you should avoid installing several pieces from the same package in one space.
Diversity brings a better visual appeal.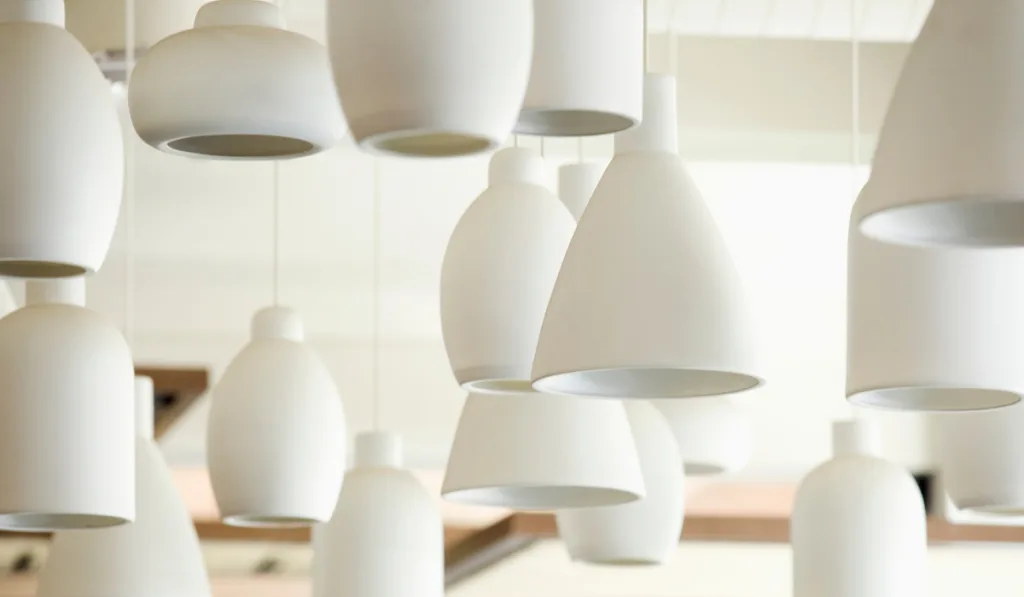 Choose a Metal Finish
If you are not ready to mix and match metal finishes for your lighting fixtures, always consult a professional designer to help you choose the best metal finish that could help complete the look of your home.
Here are a few pointers:
Make sure the metals have a similar sheen. Pieces with a similar lustre go well together.
Secondly, colors in photos are deceptive, meaning that whatever you get in the picture is not necessarily what the actual product is. So you need to closely look at the pieces before purchasing to ensure the color of your product.
Lastly, avoid mixing similar metals. A silver-colored metal can be in many shades. Polished nickel and chrome, for example, are silver-colored, but chrome has a cool undertone, while polished nickel, on the other hand, has a warm undertone.
Use Diverse Colors, Textures, and Metals
Diversity brings visual interest to the respective space(s). Whether they share the same area or the pieces are different from one room to the next, the diversity creates a visual appeal that produces a harmonious look.
Conclusion
Lighting fixtures are design aspects that seal the deal for every home.
Therefore, whether you are doing individual rooms or enabling the seamless transition of lighting from one room to another, remember that the secret to coordinating lighting fixtures with the light itself is that it should not be shouting but talking with the rest of the room.
Also, consult a professional designer for tricks and hacks to choose the best light fixtures for your space.
Resources