*This post may have affiliate links, which means I may receive commissions if you choose to purchase through links I provide (at no extra cost to you). As an Amazon Associate I earn from qualifying purchases. Please read my disclaimer for additional details..
Imagine someone asks you out of the blue, "what is the style of your house?". But instead of giving an answer, you stare at the person, completely at a loss for words.
In that moment, you mutter to yourself, "what style is my house?"
The answer to this depends on the architectural features of your home. Some of these features include windows, siding, roof, and walls.
Sometimes, even the origin of the design gives a clue as to what type of house you have.
If you are unsure of your house's design, we explore some amazing house styles in this article. We pay attention to their key features, amongst other things.
With the information below, you should be able to make out the style of your house. Also, if you intend to remodel, you may just find something that fits in with your personal taste.
1. Art Deco
The Art Deco style derives from a mix of influences, including ancient Egypt, tropical Miami beach, and Hollywood in the 1930s.
Art Deco is more commonly adapted for office buildings.
It is set apart by its bold exterior décor, smooth stucco walls, and flat roofs. The stucco walls of an Art Deco building generally have rounded corners.
2. Asian
While there may have been some modification of the actual design, the Asian style originates from Chinese Architecture.
From the original design by the Chinese, other Asian countries modified and created their own version.
All in all, the Asian style usually features a curved roof which extends beyond the exterior walls.
3. Beach
As the name says, Beach style houses are typically erected by the beach or seaside.
This style is characterized by an elevated base. B
each houses are great as vacation houses in areas near water and in highlands.
4. Bungalow
Before it got the name Bungalow in 1820, this house style went by different names, including Bangla, Bungales, Banggolos, and Bunguloues.
The name Bunguloues means a temporary shelter that can be set up with ease.
Bungalows originated from India. They are long, low buildings typified by drooping attics and wide verandas.
The earlier bungalow buildings were roofed with thatch. But that was later modernized and changed to fireproof tiles.
5. Cape Cod
Cape Cod homes have been around since the 1600s. It is said that the earliest Cape Cod home dates to 1675.
The Cape Cod house style is typified by steep roofs, multi-pane windows, wood siding, large chimneys, and hardwood floors.
It also comes with cedar shingles, dormer windows on both flanks of the chimney, and front doors flanked with windows.
The traditional Cape Cod usually comes with wood siding.
However, these days, you may find stone, brick, or stucco sidings.
6. Colonial
The Colonial house style originated in 1876 from the Eastern U.S, and it is still quite popular all over the country.
This Colonial style features wood or brick sidings and a medium-pitched roof.
The front door is flanked by 2 entry windows, while the second floor typically has 5 windows. Of the 5 windows on the second floor, one stands directly above the front door.
From this description, you may have noticed that the Colonial styles favor symmetry.
7. Contemporary
This style ordinarily refers to some house designs between the 1950s and 1970s.
However, it has been expanded to cover some house designs of recent times.
The contemporary house style is typified by roofs that are steep, high, and hip.
The windows are relatively large, and in some cases, they span the length from the floor to the ceiling.
The siding of a Contemporary house is simple; it may be made of stone, wood, or bricks.
In constructing a Contemporary house, you may find a preference for the use of eco-friendly materials.
8. Cottage
Cottage home styles originated from England.
The name Cottage was coined from the word Cotters. Cotters refers to peasant farmers who used to live in Cottage-style homes.
Cottage homes feature wood, brick, stone, or stucco sidings.
The entryway is curved, while the walkway comes filled with brick or gravel. The front door may also be arched.
The roof of a Cottage-style home is steep with cross gables. This style features casement windows with small panes.
The windows may also have window boxes and shutters.
9. Craftsman
The Craftsman style, also called Arts and Craft, had its peak popularity between 1905 and 1930. In recent times, it is getting popular again.
The Craftsman style tends towards the use of natural materials.
The Craftsman originated from Southern California and is typified by extensive interior woodwork.
The siding of a Craftsman house is made of wood or stone.
The roof is low-pitched with wide overhanging eaves. It may also have decorative braces or beams beneath gables.
This style also features wide front porches and big fireplaces.
10. Dutch Colonial
The Dutch-Colonial-style houses have extensive gambrel roofs with flared eaves and cross gables.
Since this house style resembles a barn, it is sometimes called Barn House.
The Dutch-Colonial houses come with fish scales, bric-a-brac, shingles, or clapboard sidings.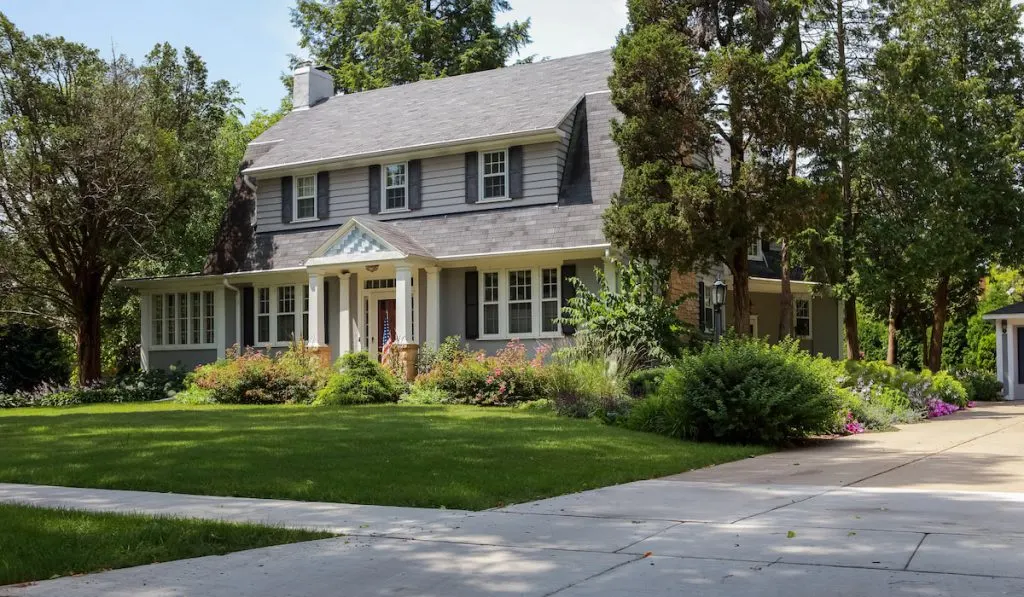 It may come with shed, gabled, or hip dormers and 8-over-8 windows.
11. Federal Colonial
The Federal Colonial style has been around for over 2 centuries. It is also called the Adam style and is said to be a modification of the Georgian style.
Unlike the Georgian style, the Federal Colonial has wings on each flank of the box-shaped structure.
The Adam style is typically made of bricks. It features tall columns, isolated panels, and curved steps at the entrance.
The front door usually has an arched window right above it and a pair of rectangular windows on each of its flanks.
12. Georgian
The Georgian style is the most common Colonial house style.
While similar to the Federal Colonial, the Georgian has been around longer.
The Georgian style originated from England, and it comes as a box-shaped structure.
The roof is hipped, and the front door is flanked by 2 pairs of dormer windows.
The second floor of a Georgian house comes with 5 windows, and the center window stands directly above the front door.
13. Greek Revival
The idea for the Greek Revival was spurred the ancient Greek culture.
But its development was primarily in the United States and Northern Europe.
Greek Revival style features tall, double-hung windows and low-pitched roofs. The sidings are made of wood or stucco and are painted white to mimic Greek marble temples.
14. Italianate
The name might suggest an Italian origin. But the Italianate style actually originated from England.
It is the American modification of the Mediterranean style.
The roof of an Italianate house is either flat or hip with cornice eaves. It also features two-over-two double-hung windows with curved caps and inset wooden panels.
Besides these, you may also find a square cupola on an Italianate house.
The sidings in the Italianate design may differ based on how wealthy the owner is.
Wealthy homes typically use brick or stone sidings. The middle-class, on the other hand, usually opt for wood.
15. Mediterranean
The Mediterranean style is thought to have been influenced by various regions around the Mediterranean.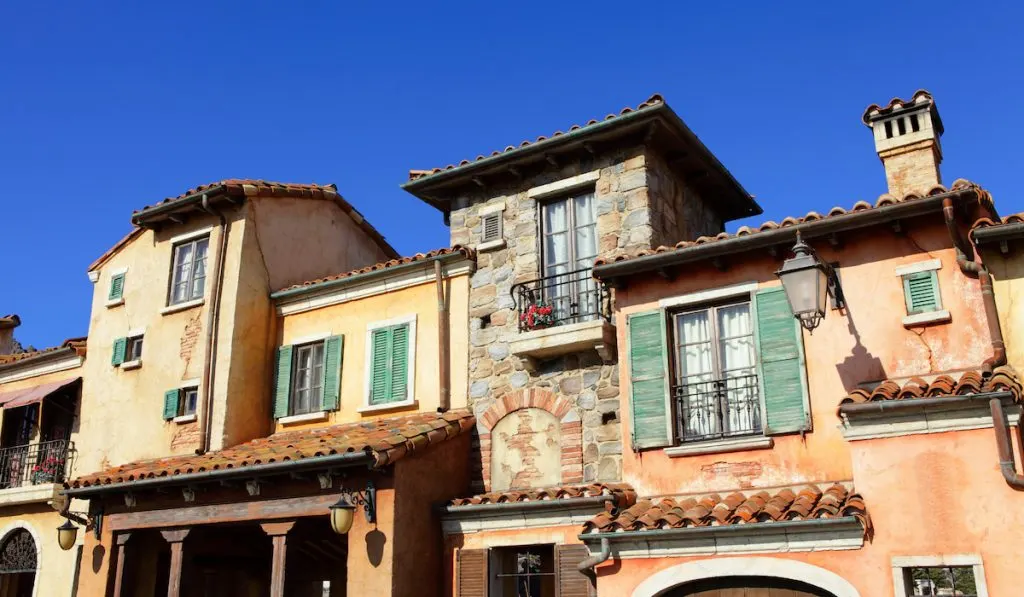 The floor plan of this style is U-shaped and oriented in a way that centers fountain or courtyard. The essence of this design is to facilitate cooling and cross-ventilation.
It features low-pitched tiled roofs; the tiles are typically red. The siding of a Mediterranean house is either adobe or stucco.
16. Mid-Century Modern
This style prospered between 1945 and the 1980s.
The Midcentury Modern-Style focuses on minimalism. It typically features flat roofs with gables, oversized transom windows, and sliding glass doors.
Mid-Century Modern style also features an extensive open flat-planed space designed with various elements of nature.
The siding may be made of glass, brick, or stone.
17. Neoclassical
The Neoclassical style is influenced by architecture from ancient Rome, Greece, and the Renaissance.
In the early 1900s, it was adapted for the construction of various universities and government structures.
The Neoclassical style is more common in wealthy neighborhoods across the U.S.
Features that typify this style include stucco, wood, brick, or vinyl sidings and simple roofs with side gables.
The windows of a Neoclassical house are installed symmetrically. They may also come with elaborate pediments.
Another feature you will find in a Neoclassical building is a wide portico with tall columns before an elaborate doorway.
18. Traditional Ranch
The Traditional style usually has a simple floor plan.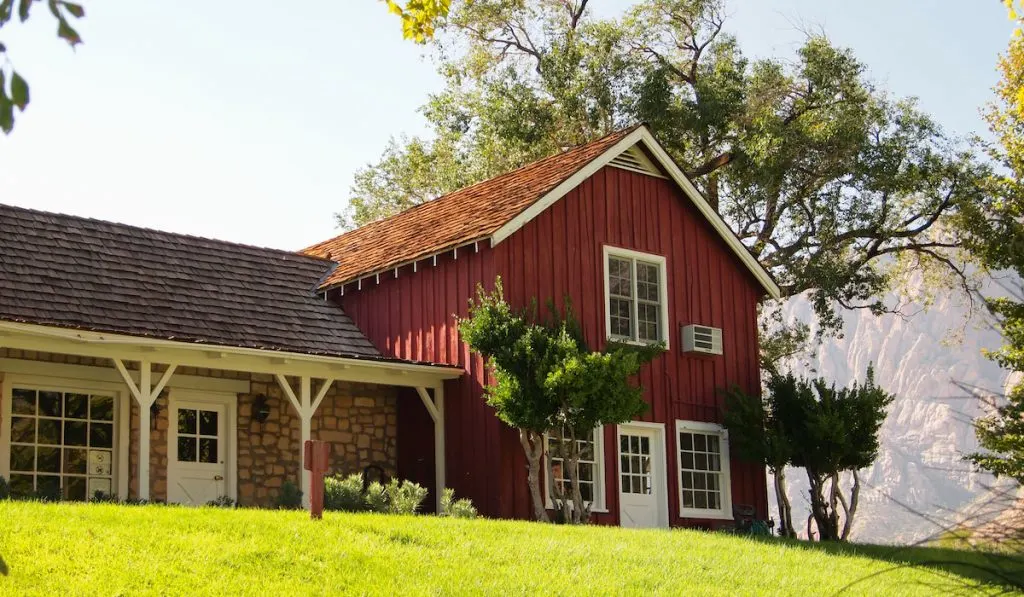 The layout could be U-shaped, cubic, box, or L-shaped, and it typically comes with an attached garage.
The earliest instance of the Traditional Ranch was around 1932. It comes with gabled or hipped roofs with extensive overhanging eaves.
The siding of a Traditional Ranch house may be wood, brick, or stucco.
It may also feature picture windows and sliding glass doors. All in all, this style is geared at minimal ornamentation.
19. Tudor
The Tudor style only shares a name with the 16th century Tudor Dynasty of England.
The Tudor design rather stems from the modifications of various late Medieval England housing prototypes.
Tudor houses come with steep roofs and conspicuous cross gables. They have casement windows in groups of at least three per row.
The first story of a Tudor may feature elaborately laid brick sidings. The second, on the other hand, may feature wood or stucco sidings with decorative trim.
Resources