*This post may have affiliate links, which means I may receive commissions if you choose to purchase through links I provide (at no extra cost to you). As an Amazon Associate I earn from qualifying purchases. Please read my disclaimer for additional details..
Are you looking for the perfect way to update your bedroom? Curtains are a great place to start. You can use curtains to create a relaxing, romantic atmosphere or anything in between. However, it's important to know whether curtains should match the bedding and how the two elements can complement one another.
Should curtains match the bedding?
This is a personal choice, it is completely up to you.
However, should you choose to match the two, the main thing you want to consider is color, and while they don't need to be the exact same shade, some colors will work better than others. We will go over everything you need to know about picking out curtains so that they work well with your bedding and your home décor!
Picking The Right Curtains For Your Bedroom
Do not let the bedding be the only thing you pay attention to when picking out curtains.
Keep in mind that your choice in window coverings will have an impact on how much light enters through your windows, so keep this in mind when choosing between sheers or thicker curtains.
Here are tips on how you can successfully match your curtain and bedding:
1. Identify the Color of Your Bedding.
Identifying the color of your bedding is the first step in finding compatible curtains. Compare your bedding and curtain fabrics to determine which colors go well together. If you cannot find any that you prefer, choose a color that contrasts with your bedding so that it stands out.
2. Decide on the Thickness of Your Curtains.
Curtains can be made of very thin material, such as muslin, or very thick fabric such as velvet. You have to also choose between lined and unlined curtains.
Thicker curtains work well with the thicker fabrics and heavy blankets of colder seasons. Thin curtains of materials like cotton, gauze, and even silk speak to summer-weight bedding.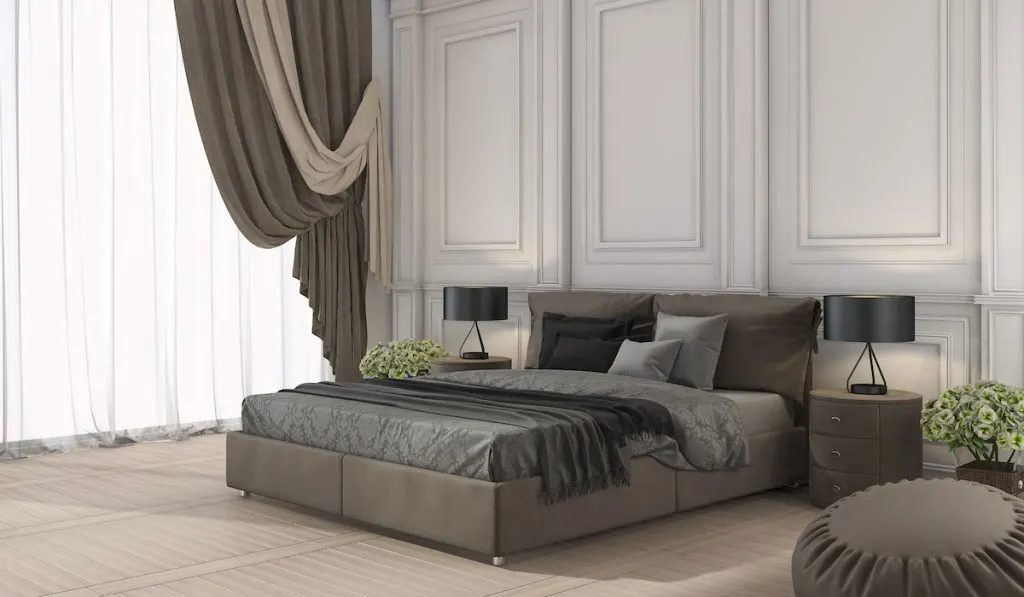 3. Know The Purpose of Your Curtains.
Knowing the use of your curtains is also essential, as this will affect how you decorate them. You can choose between sheer, semi-sheer, and blackout curtains depending on how much privacy you want to maintain in a room.
If you do not want to shut off all-natural lightning, sheer and semi-sheer curtains are best to use because of the thin fabrics of these curtains. You can use blackout curtains in bedrooms if you do not want the sun's rays entering your room or too much light coming into your room while you sleep.
4. Hanging Length and Width of Your Windows.
The hanging length and width of your curtains should be fit the width of your window, so you will not have any problems hanging them inside your room. Curtain manufacturers have some standard widths that curtains are sold in. Find one that allows the panels to cover your windows completely, if applicable or the parts of the windows you want to be covered.
You can ask for help from a reliable interior decorator if you are unsure what is the best length for your curtains and room style.
5. Choose a Curtain Style That Matches Your Bedding's Motifs.
If your bedding has elegant patterns, match these with more sophisticated curtain styles like swags and jabots. If you want to go for a more straightforward look for your bedroom, casual curtains like back tabs or pencil pleats will be perfect.
6. Use the Same Fabrics
Use the same fabrics sd your bedding on both the lining and exterior of your curtains. This is so your curtains will not look too plain on the interior or too busy on the exterior. You can also choose to use matching colors on both sides of your curtain.
7. Match the Curtains to Other Furniture in the Bedroom.
You can also match the color of your curtains to the other furniture in the bedroom. When you are choosing a color for your curtains, check out what other furniture is inside your bedroom and choose a color that can complement all of these.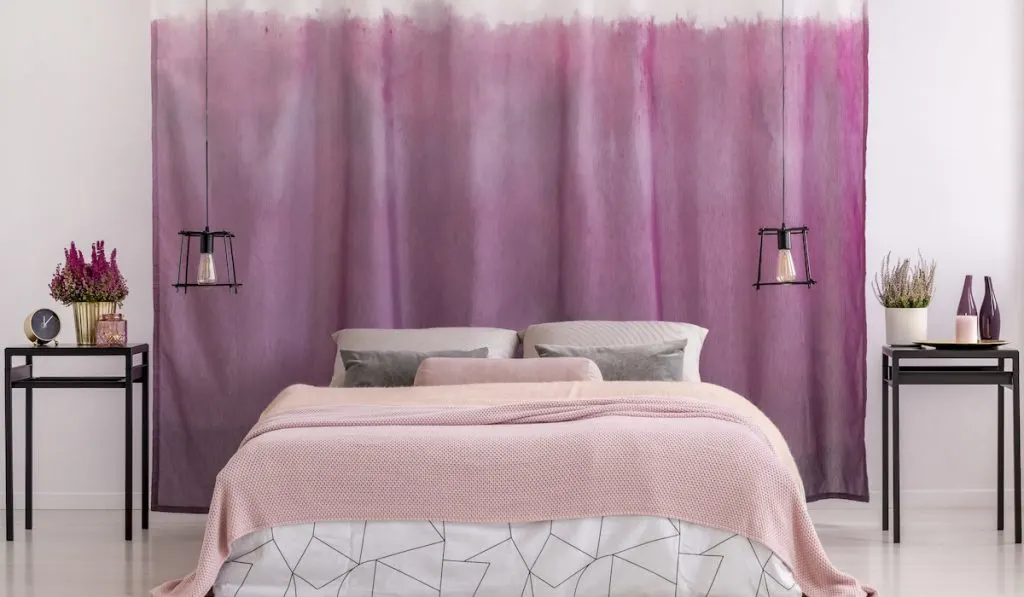 8. Choose Vibrant Colors for Your Curtains.
Boring curtains will not do a room any good. It can be fun to choose curtains with vibrant colors to brighten the room.
If you choose patterned bedding, you might want to use more subtle types of curtains But if the bedding has a plain design and colors, you can go with brightly colored curtains to liven up your bedroom.
9. Choose Curtains with Matching Trims and Ties.
Trims and ties will add style to your curtains so they won't look plain and simple. If you want a more dramatic effect on your bedroom, choose something that looks striking, such as swags and jabots with tails with matching piping and tiebacks.
10. Buy According to Your Interior
When you are buying curtains, remember to buy according to the interior of your home. If your room is big it can probably handle bright colors with large prints. Bold or bright colors can also help in making a small space appear larger.
For smaller spaces, opt for lighter color bedding because they make the room look bigger.
11. Go for Quality Materials
When investing in new bedding, it is always better to invest in good quality materials instead of cheap, low-quality pieces. Buy cotton-made products because cotton is breathable and can provide a soothing effect to your eyes.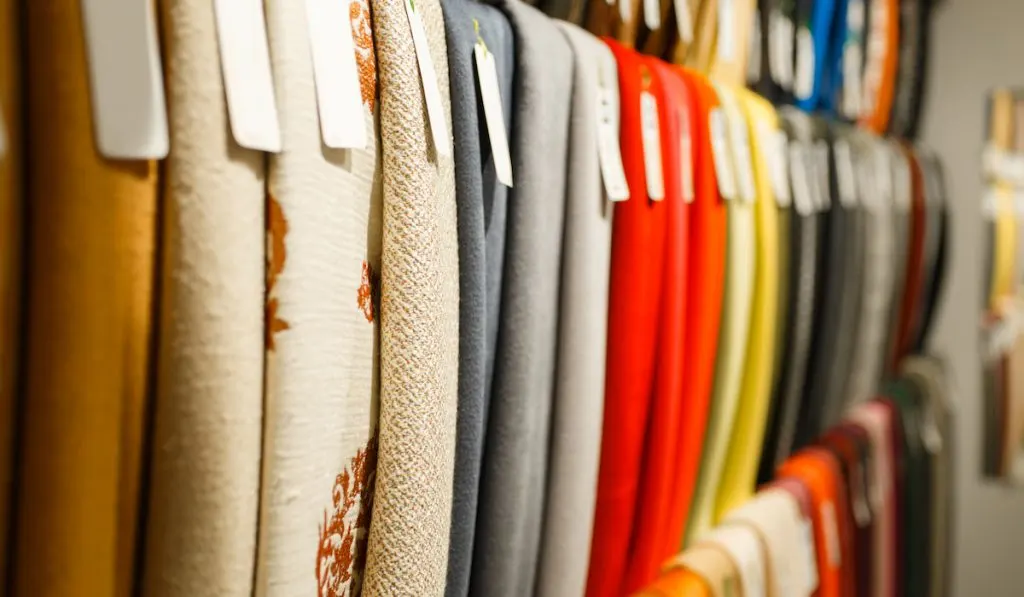 Factors to Consider When Picking Out Curtains
If your headboard is up against a wall, make sure the curtains extend past it. This way, you won't see the tack strip at the top of the wall behind it.
Curtains that are too dark will make the room appear small.
Bright colored curtains are great for kids' bedrooms as they bring out a playful and childish atmosphere.
Match your curtain rod to your color scheme; if you choose colored walls, use colored or complementary curtain rods; if you choose to paint your walls white, use a silver curtain rod.
Measure the windows first and then buy curtains that are the width you need. You can hang drapes on a rod that allows them to be drawn or opened.
Curtains with heavy linings will help insulate the room in cold seasons while reflecting heat from the room in hot summers, thus aiding in energy concervation.
Frequently Asked Questions (FAQs)
What color curtains should I use with my bedding?
As mentioned above, try to avoid using colors that will clash too much. If you doubt which colors work well together, look at the colors of your room's existing decor and choose a curtain that complements them!
What type of material should I use for my bedroom curtains?
This depends on your preference! If you want a more relaxing and calming room, consider going with soft fabrics like silk or velvet. Thicker materials will also help to block out light if this is a concern.
What's the best way to match curtains with bedding?
When shopping for curtains, take the time to look through your existing bedding and the other decor in your room. You can look at how certain colors work together or what patterns go well together (and which ones don't). If you do this, it will make choosing new window treatments much easier!
In Conclusion
Matching your curtains to your bedding will help to create a seamless feel to your bedroom and bring more personality. If you are concerned about how they will work together, try to think of the colors and patterns that match up well with each other before choosing curtains.
Do not let the bedding be the only thing that you pay attention to when picking out curtains. The colors, patterns, and textures of your window treatments should also complement the bedding. Your choice in window coverings will impact how much light enters through your windows, so keep this in mind when choosing between sheers or thicker curtains.
Resources: