*This post may have affiliate links, which means I may receive commissions if you choose to purchase through links I provide (at no extra cost to you). As an Amazon Associate I earn from qualifying purchases. Please read my disclaimer for additional details..
When furnishing a new home or remodeling an old one, one of the most important things we have to consider is the type of furniture. What type of furniture will go in the kitchen, study, dining room or living room?
Probably the most common piece of furniture in the living room is a couch or sofa. These are chair-like furniture made with a lot of foam, which makes it really comfortable for sitting on for a long period of time.
The size of the couch is based on the preference of the owner and the space available.
Usually, when buying new furniture, you give your specific dimensions to the carpenter to create a custom piece, or you'll go to the furniture store to browse around different sections, and when you find the one you like, you place an order for it.
You make your choice or give your specifications and they make the furniture and then deliver it to your house. This used to be the conventional way of getting new furniture, especially couches or sofas.
However, like every industry that has evolved over the years, the furniture industry found a way to create couches, package them in a box and then send them to the consumer.
The process happens to be very seamless and easy, with little stress. You no longer have to go store to store in search of the perfect piece of furniture for your home.
When it comes to couch-in-boxes, all you have to do is order online from the company's website or online store and have it delivered to you within five to seven days. The couches are not packed in whole as you may be thinking.
They are disassembled and packed in smaller boxes which reduces the difficulty of moving it through the hallway and the different couch parts can be easily assembled in less than five minutes without any professional help.
Boxed couches come in different styles. They can come as a single couch or a loveseat or they can come in either two or three seaters. The type you should get depends on the purpose it will serve.
Are you just using it alone in your room, or is it a family couch for the living room?
Why You Should Choose a Couch-in-a-Box
They are no different from regular couches and they are still very comfortable.

They come in large varieties of colors so there is never a shortage of options to choose from.

You can choose the type of material you want and the quality. From leather materials, to stain-resistant fabric.

They are very convenient. You can say goodbye to the long hours spent perusing furniture stores and the tiredness that comes from walking from place to place in search of the perfect couch.

You can get it in a short amount of time. Some brands such as UK's Swyft can have your furniture delivered to you within twenty four hours. So, if you would quickly like to change your furniture for that family dinner you have coming up next week, a couch in a box is your best bet.

Some companies that make couches in a box use materials that are environmentally friendly and safe.

Most come with free delivery and a risk-free trial. So less money for more. You can try out the couch to see if it suits your taste and needs for a period of time usually from 7 days upward.

Sometimes, you can also request an exchange if it doesn't meet your expectations, but this is solely based on individual companies.
Where To Buy a Couch-in-a-box
You can purchase your couch-in-a-box from any online retail store like Amazon, Wayfair, and the website of furniture brands that have the options. Ensure you inspect your couch once it is delivered, to check for defects or manufacturing errors.
Couch-in-a-box Options
The following are nine couch-in-a-box options you should totally consider.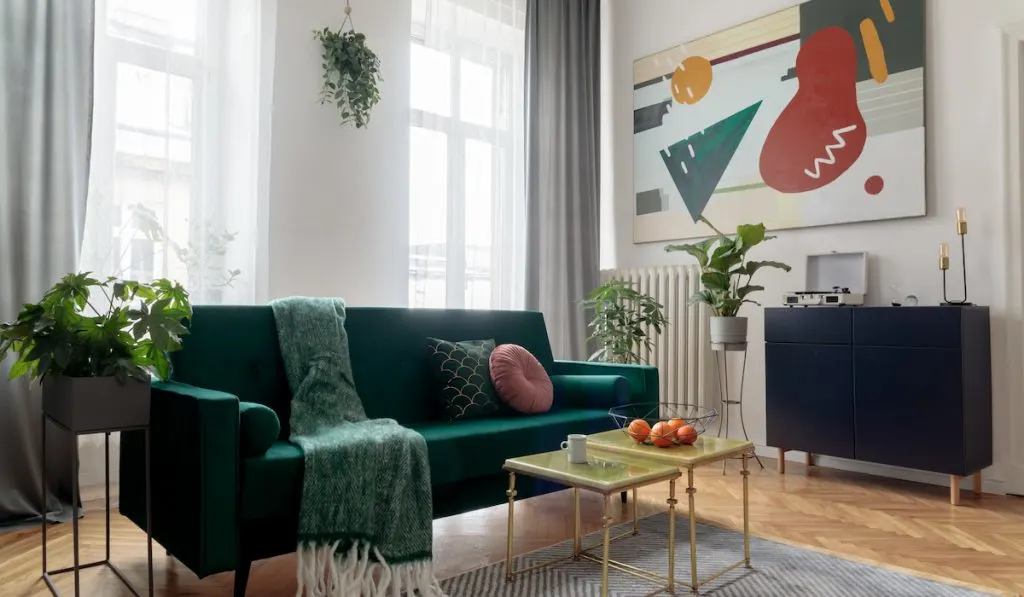 Swyft Model 02 Couch
This is available in two to three seater options, usually between 68 or 80 inches wide. They come in seven colors and two material types which are velvet and linen. Solid wood plinth is used for making this couch, and it is finished with perfect seam and piped detailing.
The Model 02 couch comes with two cushions and the fabric used is coated. This coating makes the couch stain-resistant, a great choice for a home with children or pets.
The couch comes with a 100-day trial period and a 15-year guarantee. So, you have a lot of time to get to know your couch and see if it is a good fit for your home.
All couches come with custom fasteners, which makes it really easy to set up without the use of tools. All you have to do is arrange them correctly and the fasteners will make sure they click together. The whole assembling process takes all of five minutes.
If you are ordering this couch, you can get it delivered within twenty four hours, as long as you order it before 1pm.
Floyd
One of the missions of Floyd includes reducing the waste that comes with the furniture industry. They do this by creating long-lasting, quality and durable couches from safe materials which are nontoxic and harmless.
Floyd couches are available in three different configurations: two seaters, three seaters, and three seaters with a chaise which is interchangeable on either side of the couch. The fabrics of Floyd couches are soft, durable and stain resistant with very firm cushions that stay put in any situation.
It is very easy to assemble using the Floyd tool which can also be used as a bottle opener.
The brand comes with a 10-year warranty and also a 30-day trial period which you can only take advantage of if all the original packaging is still intact.
Argus Evie 2 Couch
This comes only in two-seater options with a width of 56 inches. It is one of the best choices if you are on a budget as it can be gotten for about $282. It also comes in only two colors: charcoal and natural.
They have physical stores where you can just go and pick it up as it is readily available for delivery. It has a 10-year guarantee period, but there is no trial period.
Every purchase is final except in cases of manufacturing defects or wrong sizes. In such cases, an exchange, refund or replacement is made.
The material of the Evie 2 couch is polyester, with removable seats filled with foam fiber wraps. The cushions are reversible and also made with fiber filling. The couch can only be cleaned professionally.
Snug's Big Chill
This comes in both two and three seaters which are 64 inches and 83 inches wide respectively. It comes in navy velvet, green velvet, teal, blush coral, and more. The legs of the couch are quite sturdy and come in three variants – metal, black, or brown wood and are extra firm and supportive.
The materials used to make the big chill couch are foam fiber and pocket springs. The fabric used is stain resistant and vegan which makes it eco-friendly.
Spills are easy to wipe off and clean, especially with the polyester fabric. The velvet fabric will need a little extra care for cleaning and maintenance.
Allform
This couch ranges from one seater armchairs to full couches. They are made from recycled materials with the seating consisting of fiber cushions and downy foams. The fabric used for these couches are very strong, and durable.
They are reported to be resistant to scratches, spills, and stains which makes them perfect for families with children and pets, or for individuals who spend a lot of time on their couch or sofa.
These couches are also known to be very comfortable, even more comfortable than the regular couches out there.
So, if you want your couch to double as a sleeping area, you should consider getting one of these. The legs of the couch are very sturdy and can withstand all the daily shenanigans of kids.
Another amazing thing about allform is its really spacy seats. They come about three inches wider and two inches deeper than the regular couches on the market, so there's always extra room for taller people or two people looking to snuggle up on the couch, or even one person who just likes all the extra space.
These couches come with free delivery and a free trial period of one hundred days. They can be customized to suit your taste and preference. They are also easy to assemble and require no tools or professional skills.
Elephant in a Box
These types of couches are very lightweight, flexible and easy to move around. The flexibility makes it very easy to assemble with zero tools. It also makes moving from one place to another quite easy as the couches can be bent or folded, straightened out or unfolded.
So if you're moving from one apartment to another or rearranging your house and want to move the couch up the stairs, it is very easy to do with the elephant in a box. It is very strong, sturdy, and can successfully hold up to 3000 pounds weight.
The couches also come with free delivery and a 30-day trial period. You can have it delivered within two to four days or you have the option of picking up at any of their stores.
Burrow
This brand offers one of the largest ranges of options of couches to choose from. It also comes with upgrade choices where you can add various pieces to your couch. You can add a sleep kit, lumbar pillow, movable chaise and more.
Like every other couch-in-a-box option, this is very easy to assemble without the use of tools or the help of a professional. It comes in about three fabric types and three metal or wooden leg finishes.
The fabric materials are very durable and stain resistant. Spills and stains can be wiped off with a soft damp cloth and your couch is good as new.
Burrow couches come with free delivery and a 30-day window return policy.
Capsule
This brand is known for their beautiful and elevated couches. The couches are modern and ooze sophistication with a hint of architectural prowess, and they are affordable.
They come with reversible cushions and throw pillows. Their legs are low and are only slightly elevated. Their couches come with a generous 90-day return policy.
Coddle
This brand offers convertible couch-in-a-box options. It comes in only one size, but eight upholstery variations to switch things up. It is easy to fold and unfold into different configurations.
The couch also comes with two charging ports on both sides of it. This is really convenient for people who would like to relax or work on their couches.
The couch lacks the conventional arm rest, but ends can be angled up to about 60 degrees to give neck support to people.
The assembling process is quite easy, tool free, and takes at most fifteen minutes to work through and complete.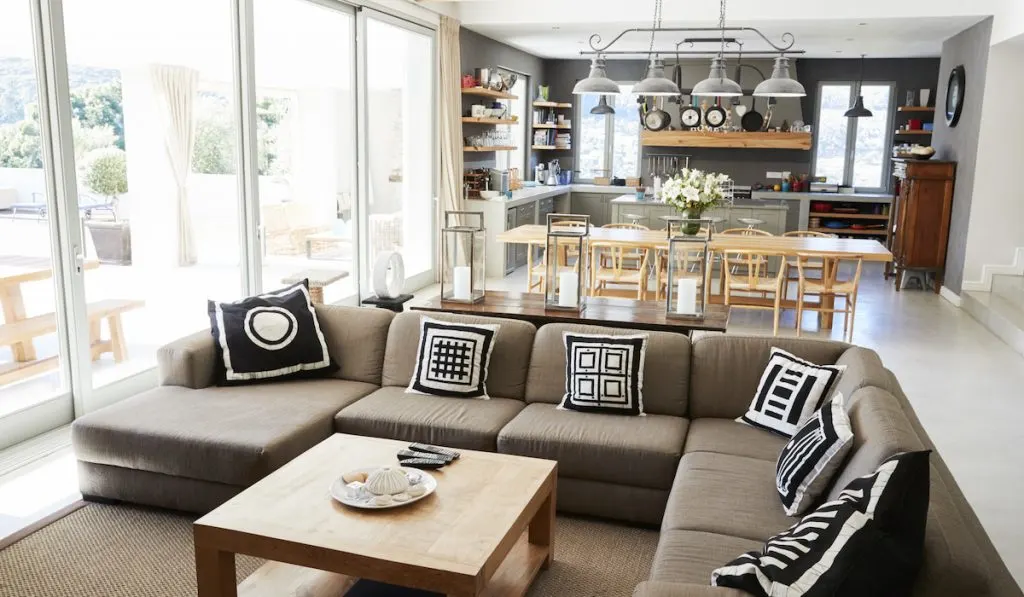 Conclusion
There are various types and styles of boxed couches that you can consider for your home.
They come in different styles, colors and types of materials. Every couch has its own peculiarities, and it's uses.
Find the one that best suits you and your family and consider your living space before getting a couch so you can enjoy your new couch to the fullest.
If you do not want to go through the conventional stress of getting new furniture, a couch-in-a-box might just be your solution.
Resources