What is maximalist interior design?
*This post may have affiliate links, which means I may receive commissions if you choose to purchase through links I provide (at no extra cost to you). As an Amazon Associate I earn from qualifying purchases. Please read my disclaimer for additional details..
Maximalism is a style that promotes and embraces loud style pieces with mixed patterns, saturated colors, a range of cultures, mixed textures, and excessively curated collections from different eras. It also welcomes decoration ideas in excess, but in a fantastic manner, and it delivers a "you can't mess it up" style.
Repetitions, dominant patterns, bold palettes, intricate graphics, and extremely unique possessions are common in this style. Maximalism also encourages the utilization of the decoration space in the boldest ways.
This can be achieved through having ornate interiors, bold colors, and modern accents which keep the style up to date with modern pieces.
Others validly argue that this style is all about surrounding yourself with the things you love for more comfort. This can be through blending art, furniture, decorations, and other pieces strategically and in a customized manner for visual satisfaction.
There is no specific formula for creating a maximalist space; just try to customize it to uniquely fit your liking.
Although "you can never mess up" this style, you should probably know when to stop decorating to avoid having a chaotic and overwhelming interior.
Basics for maximalism
It is of much importance to know that when decorating your home in this style, you should fully personalize it and assemble pieces according to your liking and taste. This style fully expresses and gives room for your personality and experiences to shine easily.
For a start, combining wallpaper, painting, photos, and rugs can be the basis for curating pieces for a maximalist space.
Make sure you load up lots of rich and bold colors, have pieces with repetitive patterns like abstract, florals, and animal prints, blend textures and colors, blend different styles, and more so, have pieces that make a statement in the maximalist space.
The maximalist style is a book lover's dream, so, have lots of books on the shelves. Of course, you can never have too many books.
Let's now take a tour of a few tips that will help you create a good maximalist space.
1. Do not Limit Colors
Color is the backbone for maximalist interior design. It is, however, wise to choose a maximum of three colors as the basic and most dominant colors in your space, then add more colors through accessories.
In most cases, dark hues like navy blue and black are popular for walls. The sole aim for this is to balance out when other bright colors are added to the room.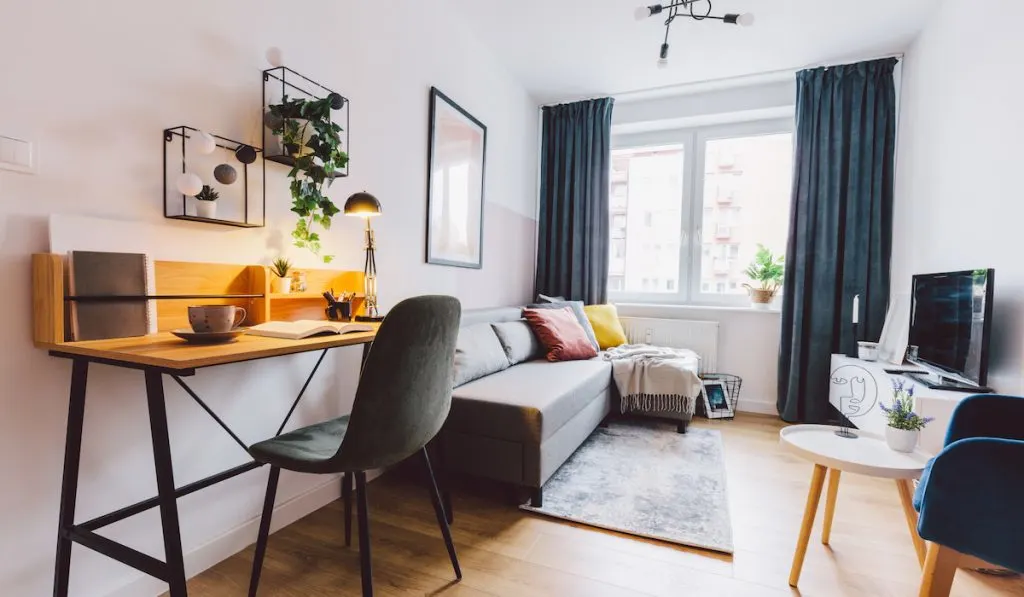 2. A Bold Living Room with Graphics
Both dark and bright walls set the best basis for an explosion of patterns and colors in the maximalist space. White is popularly used to set this kind of stage, but dark colors like black and navy blue could just be the perfect tint.
The various patterns are also incorporated through accent pillows, rugs, and curtains.
You should, however, consider three main things when blending them.
The first is color. Every piece features different hues, but finding harmony between the different colors is key.

Secondly, the size and scale. Be it furniture or any other piece within the space, they all come in different sizes and should be carefully incorporated.

Lastly, bold patterns should be incorporated with or against solid colors.

A good example is with patterned curtains which are fitted against crisp walls and decorative pillows and rugs which are blended with furnishings with metallic or solid colors.
3. Create Gallery Walls
Statistically, walls full of art are the most prominent and common feature for a maximalist space. There is no limit for art galleries with this style.
The secret to achieving the best look with art in a maximalist décor is to put aside what you know on what you should have, or the rules and clues to follow and just throw in any piece of art that you love.
Find pieces that specifically speak to you and express your style. This may be blending different artistic styles, a range of sizes, and a combination of several frames.
You should, however, be more specific when spacing your art pieces. A wall can host artistic pieces of different sizes, but the size of their spacing should be uniform.
4. Mix Quirky Patterns
For a maximalist interior, bold patterns and colors are the signatory features. The addition of curtains, wallpapers, and other decorative items features a range of hues and motifs that can help you to fully explore the maximum potential of your maximalist space.
For the best look, try having the furniture go with neutral colors while rugs and floral patterned curtains are allowed to burst in all the rainbow colors across the maximalist space.
If you must have wallpaper, let it shine and totally contrast in terms of prints, colors, and texture with everything else in the room.
Decorative pillows with different hues and luxurious metallic finishes are the perfect pieces for successfully blending and harmonizing the extremes and contrasts in other pieces within the space.
You should try to avoid matching patterns such as identical light fittings or stands to create more room for other colors, styles, and pieces to give a "work in progress" look to the room.
5. What you Love Comes First
It is a fact that we love our spaces more when we customize them with things that we love. Achieving a maximalist space means having more of everything in your space, especially more of the pieces you love.
This means that you should find a color palette and patterns that you like and set them as the basis for curating other pieces. Ensure that your choice of base color and pattern is dominant in your space.
You should also show off all your favorite pieces and collections. Display shelves and cabinets could prove to be of much importance here.
6. Fill your Walls with Complementary Contrast
Creatively decorating your walls could be the most interesting and fun way to nail the maximalist style. This could encompass integrating a customized and textured wallpaper that forms a basis for picking other pieces for the room.
You could also maximize the texture of the wallpaper with frames and galleries to bring out your style.
7. Blend Patterns, Colors, and Textures
The maximalist style is all about having more and more of what already exists. There are no rules or guidelines for perfection in decorating this style, instead, you have the freedom to blend and match as many pieces as you see fit.
This gives room for so many patterns, a mix of fabrics, unlimited textures, unpredictable and unlikely color combinations, a variety of materials, and even several furniture styles.
You are given room to fully freestyle with what you love, but as mentioned before, know when to stop.
8. Maximize Presence of Books
The maximalist interior design is a book-lover's dream design. Other interior décor styles limit the number of books that can be displayed. Unlike the other styles, all your books, in different volumes, are welcome in this design.
Tall bookshelves and mini-libraries help to organize this space to give a wonderful and clean look. If, in case, you don't have shelves, it is totally fine to stack and pile up your books on the side tables as well.
9. Create and Find Cohesion
You should find a way of connecting and harmonizing pieces in your maximalist space to avoid clutter because of the different styles clashing in the room. Intentionally clash the room but with the cohesion of the décor pieces with the background color.
You may have a taste and liking for different pieces with different styles you want to bring all together in one room. This style can never go wrong so just connect pieces that have, for example, similar hues, texture, or patterns to achieve a cohesive space.
10. Prioritize Layering
Layering is all about finding a connection for all your pieces in the room through having a foundation for blending. You can choose one thing you love the most in your room, for example, a vintage chair, and use its design to curate other pieces that cheer the main piece.
11. Use the Ceiling Space to Enhance Dining Rooms
In your dining rooms, your ceiling space should be filled with colorful and elegant patterns to enhance liveliness in the room. Enhance maximalism more with a light fixture that makes a bold statement.
12. Plants are Key
More and more indoor flowers and plants are welcome. You do not have to limit yourself. Go wild with as cany as you like. Hanging flowers are a plus for a better look. A good example that maximizes this idea is the Feng Shui style organization of indoor plants.
With no doubt, adding more and more life makes the place priceless and installs happiness in the room. Do not, however, forget to keep your plants healthy. And consider having more space to accommodate more and bigger plants.
13. Show Maximum Cheer
Happy colors, patterns, and pieces are the best decorating basics for this style. Embrace warm and connective color palettes like hues of blue for bedrooms and flowery patterns for other pieces.
Other happy style interior decors like the English Country and Boho, among others, are all welcome in this style.
14. Have Plenty of Rugs and Cushions
Anything goes with this style. Heaps of throws, pillows, cushions, and rugs are all allowed and welcome to add value to the style. There is no limit to blending these textures and colors. Go for whatever you like.
15. Lend Love and Light
The basic foundation for a maximalist room is filling it with pieces that you like that put a smile on your face. This automatically brings love to the room. Light is the final key that harmonizes up all the pieces in the room.
Do not limit yourself to one type or style of light, such as a white bulb. Try varying light sources such as floor lamps, pendant chandeliers, silk-shrouded lamps, even including strings of twinkle lights, all in an attempt to add dimension and interest to this range of hues.
Conclusion
Generally, this style takes time to mature, and at most times, it will always have that "not yet done" look.
It is therefore important to have an interior designer for consultation and guidelines on how to incorporate color, texture, and patterns to your foundation pieces such as specific furnishings, windows, or sofas.
Your interior designer will also guide you on how to find the best pieces for your space based on your likes, preferences, and interests.
Many will argue that the best pieces for this style are unexpected pieces found in unexpected places, such as craft fairs, thrift shops, and boutiques, and all are always welcome.
Resources