What is interior design?
*This post may have affiliate links, which means I may receive commissions if you choose to purchase through links I provide (at no extra cost to you). As an Amazon Associate I earn from qualifying purchases. Please read my disclaimer for additional details..
Interior design is the art and science of improving and enhancing the interior of a building to have a specific appeal or look.
The interior enhancement is achieved by following a predefined set of rules and procedures of piecing up and blending different furniture and accessories. It provides the designer a process to work through according to a client's frame of reference.
It is equally important for a client to clearly define how they want their interiors to appear in an ideal world.
When working on giving your home a new look, there are a variety of styles that can fit every home in whichever way desired by the client.
You can choose between vintage, colonial-era, mid-century, and even the modern styles, all of which can give your home appeal and ambiance.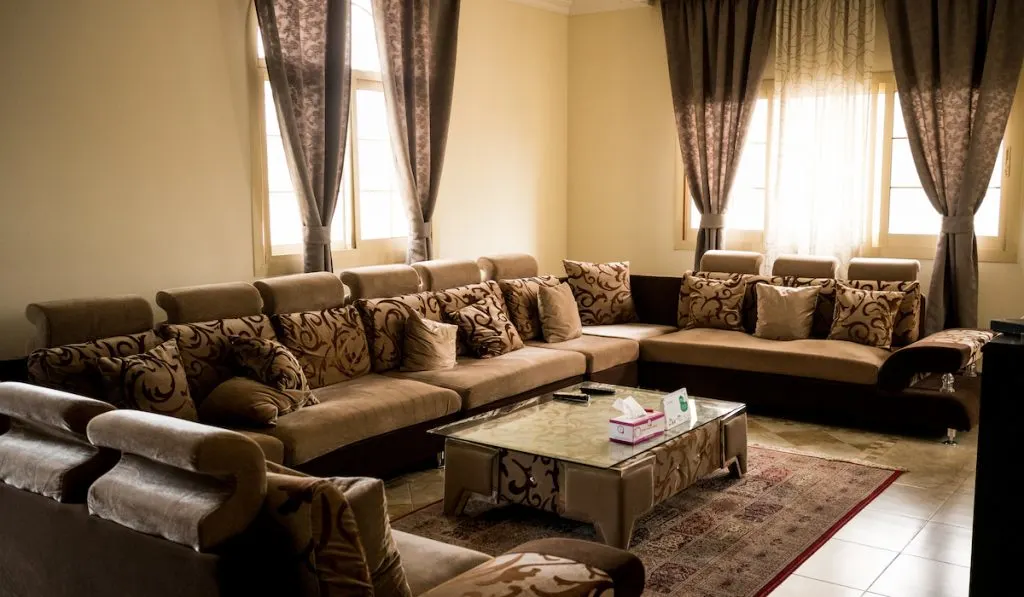 At times, carefully blending two or three styles can produce a lively, beautiful, and cohesive look.
Whether you want to renovate or give your rooms and home a fresh new look, it is good to get advice from an interior designer, who can help you through the hard choices on decor.
Let's have a look at a few of the most common and popular interior design styles.
Trends in Interior Design
American colonial
The American colonial look has a mix of both traditional and rustic designs. This style draws on the history of the 1600s and 1700s, with handsome furniture inspired by the early American designs.
Colonial pieces were often custom-made with unique carvings and flourishes. The drawers, cabinets, and armories were fitted with brass knobs and handles for an extra touch of elegance and sophistication.
The American colonial interior décor is enhanced by handcrafted brass and copper lanterns, placed alongside wall sconces and chandeliers.
The shutters insured enough light, sufficient airflow, and privacy too. Formal staircases appear at the entryway since the buildings are normally two or three stories tall. This style's interior is generally laced with muted colors that complement other pieces in the space.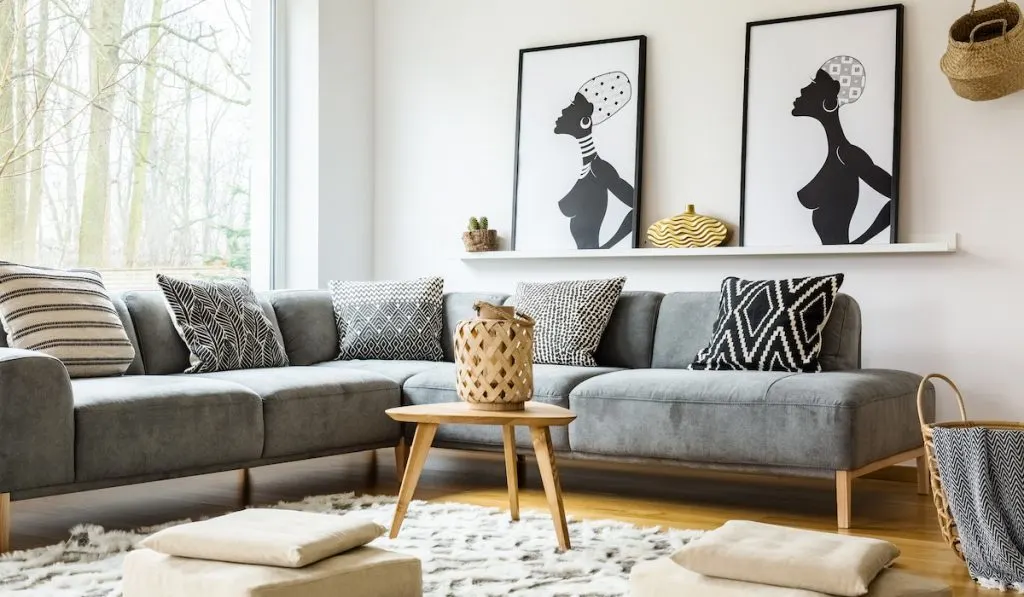 African interior style
This is a new style of design that is fast gaining popularity. It is mainly inspired by nature—colorful fabrics, wild animals, and traditional wood carvings—as well as appreciating and utilizing natural textures, shapes, and finishings.
People feel inspired by this design because it giving the feeling of being within nature, as most of the pieces are made of hardwoods, reeds, and stone, with a touch of culture and history in each piece.
The African interior design embraces rich, deep, and warm colors with natural components like burnt orange, burgundy, and earth brown.
The walls are often painted beige, white, or cream, adding an extra sense of comfort to the African space.
Butterfly chairs are a trademark for this design, with most made of mahogany, ebony, cedar woods, or rattan with Kuba cloth, ikat fabric, or leather upholstery.
Braided reeds are common for chair seats and backs, or animal prints like zebra or cheetah, to underscore the importance of wildlife to African design and culture.
The floors are often sandstone, stained concrete, or terracotta with jute or sisal rugs. Other accents in this design include bolga fans, ritual masks, hand-woven baskets, carved wooden bowls, short-shaped poufs, and stone artifacts.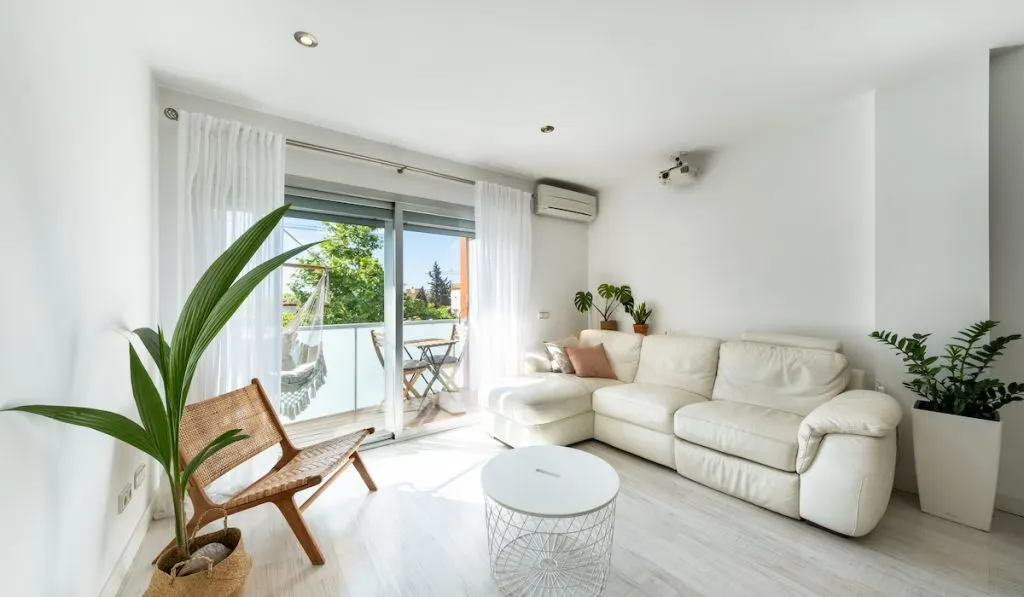 Hamptons interior design
Also called the beach house style, this design embraces a fresh and airy palette laced with natural textures.
The interior colors are drawn from coastal settings and nature such as sky blue, white, and beige. Other colors are welcome too, to complement these basic colors for more customization.
Furnishings include weathered wood and sea glass, with the sofas and chairs given a finishing of light materials like linen and cotton.
Well-positioned windows optimize cross-ventilation, with plantation shutters giving the necessary privacy. Timber floorboards and timber moldings along the staircases and hallways give the interior a soft and natural elegance.
The centerpiece for this style is an elegant and minimalistic dining space. An antique table with modern chairs around it finishes the look.
Just don't overdo the decorations. White kitchen cabinetry with open shelving or glass-paned doors is also dominant, with benchtops often made of marble or engineered stones.
The lighting for this design has a nautical flair, such as lamps hanging from jute ropes. Copper and iron lamps might also be used to decorate the walls.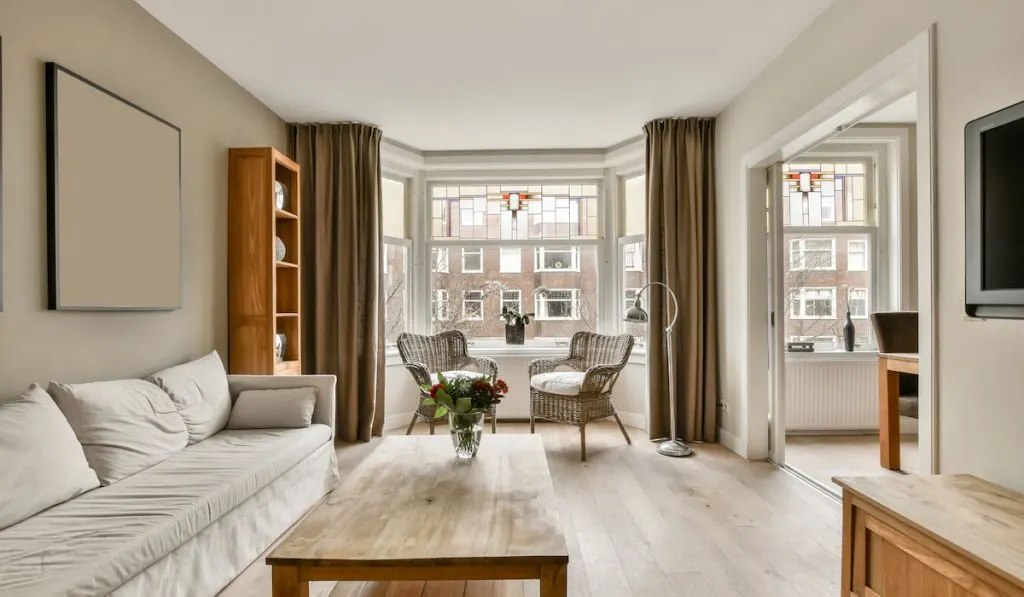 Scandinavian interior design
This style, also known as Scandi, is all about giving your home a cozy interior look. It also treasures simple pieces and creating warmth in the Scandi space.
Most of the pieces used in the interior décor are affordable, functional, and made using local natural materials with the skill of traditional craftsmanship.
Warm textiles are common for this style because of the cold weather in the Scandinavian countries.
These could be carpets or throws made of wool, mohair, or sheepskins, ideal for warmth. Accessories like jars and vases are also used to attain a simple and yet decorative feel.
Pillows and throws with simple prints on them are good for your sofas and chairs too. Fresh flowers and indoor plants are a necessity to every Scandinavian decor for a lively room.
Most importantly, hues of greys, browns, whites, and blacks are common constituents of the color palette for this design.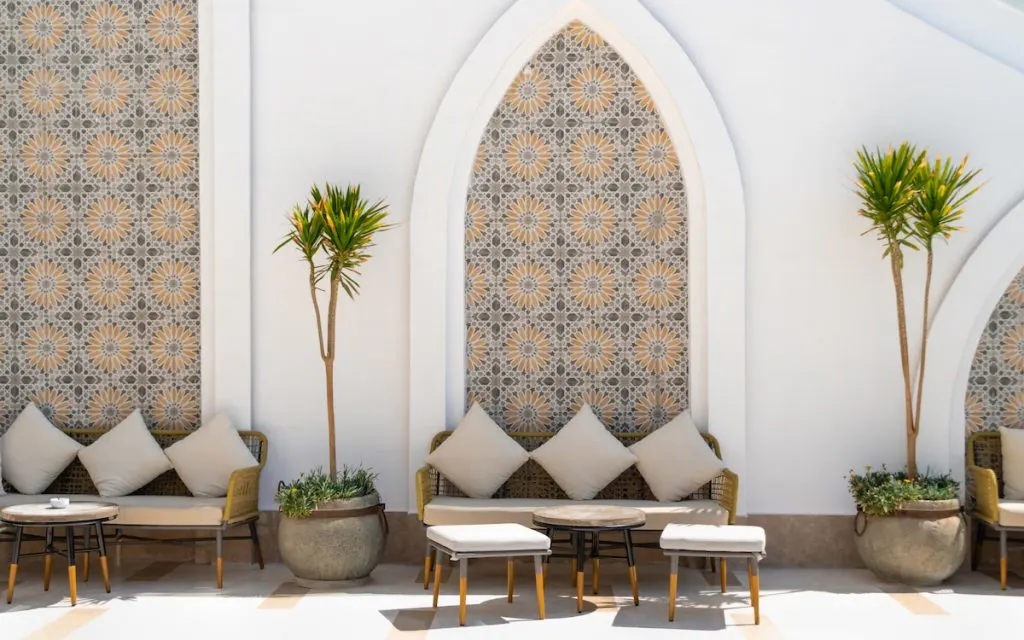 Arabian interior style
The Arabian style gives a space mystique, fantasy, elegance, and extreme luxury.
It blends lush materials, ornate patterns, and bold colors with various textures. Materials like metal light fixtures, wood tables, glass décor, and velvet couches invoke a charming effect in your Arabic space.
Bold colors are used for this décor, with hues of rich red, ochre, orange, turquoise, silver, pink, bronze, and gold being dominant, as they add personality and whimsy to the space.
The floors, walls, furnishings, and art are mostly in these colors, as preferred by the client.
The rugs and curtains are mostly imprinted with mosaic patterns for decoration and a sumptuous style.
The furniture is usually curvy with the lighting fixtures well-positioned to accentuate the wood pieces that are exclusively detailed for a regal look. The chairs and sofas are laced with luxury using textures like velvet and silk.
The mood is also set by hanging pieces with metallic pendants molded in beautiful patterns.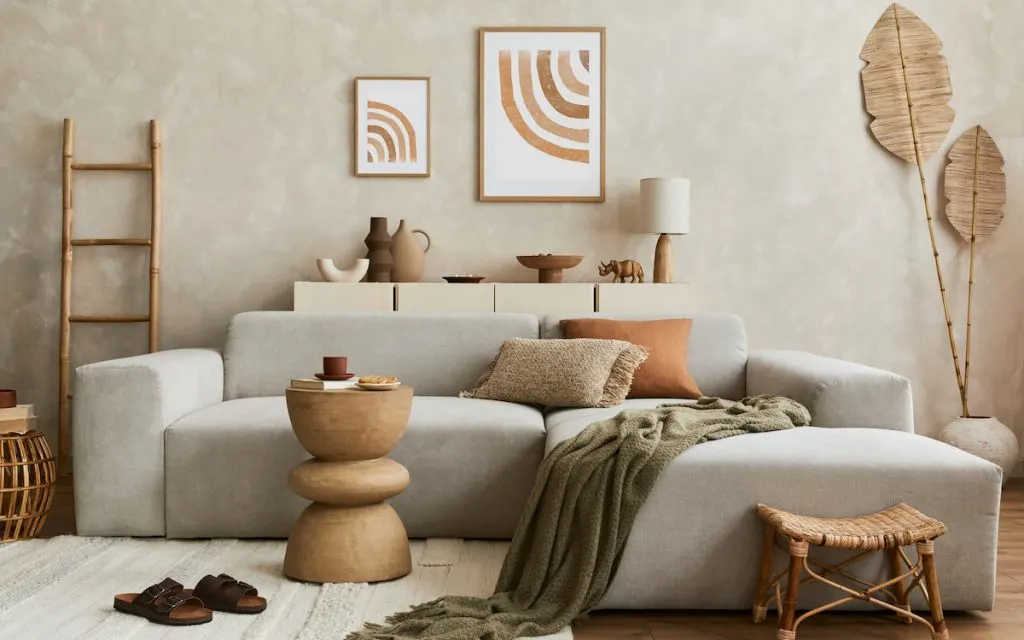 Art moderne style
Also known as the American modern, this style was created in America but its origins stretch to other countries.
Born in the mid-century, this style blends idealistic minimalism with modernity. It features a white color palette with smooth lines and surfaces and little decorative details to show simplicity.
Solid neutrals are best used to make a statement. The design features furniture made of shiny man-made materials like chrome, metals, and plastics.
Generally, art moderne advocates for more streamlined, tapered, rounded, low, and horizontal lines rather than vertical.
The creativity of art, however, is welcome, as the designers add series of escalating levels for style and creation of more space, hence incorporating verticality within horizontal lines.
To achieve the moderne look, the furniture surfaces are often glossy, the sofas and chairs fitted with rounded edges with a palette of contrasting colors like black and white.
Windows, doorways, and other architectural elements come with curved corners. Their raw, natural textures such as concrete, terracotta tile, metal, and glass, are all blended and matched within the moderne space.
The lighting in the moderne room gives the desired finishing, with floor and table lamps being the common lighting fixtures. They feature frosted glass with generally circular shades also made of glass.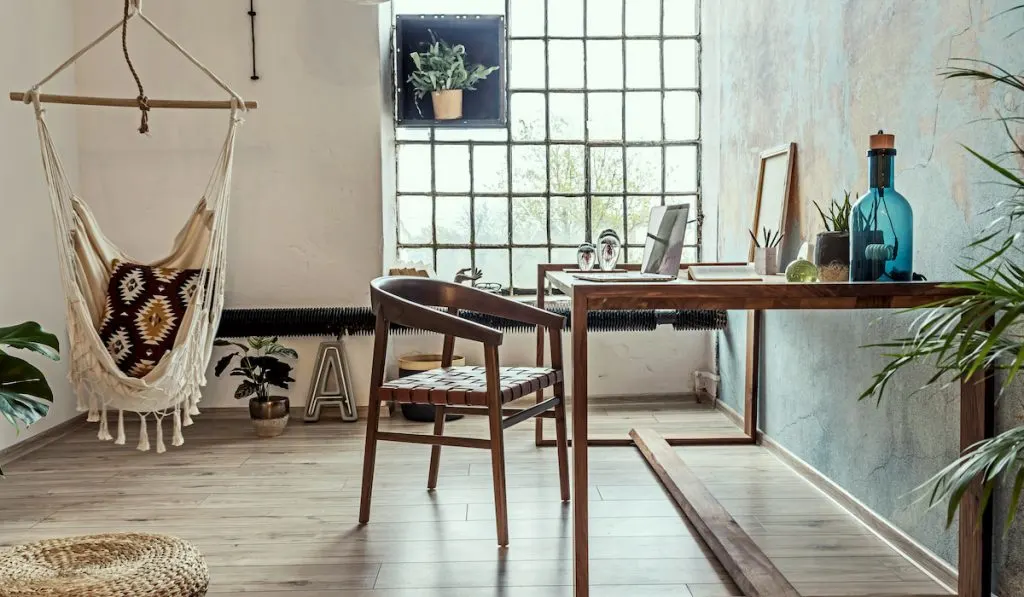 Artisan interior design
This style features a home décor with furniture individually hand-crafted by a carpenter or an artisan, for a distinct and personal touch to the space.
This design, therefore, requires time, skills, and artistry to have a complete style. It gives the designers space to invest their personal attention and energy in every piece.
The materials in this design are all high quality and highly detailed, infusing a sense of artistry that materializes into functional pieces of art.
This gives the pieces a sense of authenticity and originality, as they typically reflect the identity of the craftsman.
These attributes also give your furniture the status of timelessness, defying all the constraints and boundaries of various design styles and eras.
Rugged textures, warm colors, and rustic finishes are common for the rich wood cabinets, bronze faucets, and the hammered surfaces. Rugs and fabrics are laced with floral and colorful patterns for beauty.
For the lighting, light fixtures feature a range of properties, from hand-crafted pendant chandeliers to table lamps with brown glass vases.
These light fixtures, alongside other furniture items, like tables become the centerpieces for their ability to seduce the eye with their beautiful design.
Asian interior design
Also called the oriental design, this style features cultures from different Asian countries like China, Japan, Vietnam, Thailand, among others. Some designs only stick to one style, while others may be a blend of two or three cultural styles.
The Chinese and Japanese styles are however the most popular. Feng-shui, for example, is a Chinese design style, which is popular among Asian countries and gaining momentum in the western world.
This style emphasizes that every piece for decoration has energy, both negative and positive, so each piece should be carefully placed with balance so as not to mix the contrasting energies.
Accessories featuring animal motifs and other mythological creatures like dragons and monkeys further emphasize this style.
Fish pots, large vases, and porcelain jars with both simple and complex patterns in white and blue or multiple colors are fashionable for this design.
There is also a strong sense and reference to nature in achieving this design, as rooms are often laced with a raw taste of nature including indoor plants and decorative greenery, pebble backsplashes in rooms, and even stone sinks.
Other trendy and stylish accessories common are wall murals, folding screens, and plaques often associated with historical icons and legends.
The chairs and sofas are decorated with silk pillows in different shades and patterns. Another necessity in the interior is a natural fiber like silk, as that is often artistically embroidered with beautiful designs, like the Kimono for the Japanese.
Traditionally, uncomplicated futons are used for the bedrooms, while low tables and floor cushions are used for the dining rooms and some living spaces.
A graceful touch to the floor mats can be added by incorporating elegant floral arrangements like orchids and bonsai.
Natural materials like bamboo and stone set the basis for choosing a color palette. Colors and soft floral patterns are incorporated, with a palette of green, brown, and grey being common, but red is the dominant color, as it is associated with good luck.
Light fittings are equally sleek, practical, and as important as the furniture, with table lamps being the perfect accessory to complete the intricate design. Wood tones tend to be dark and rich in color, while paper lanterns are made in bright and vibrant colors.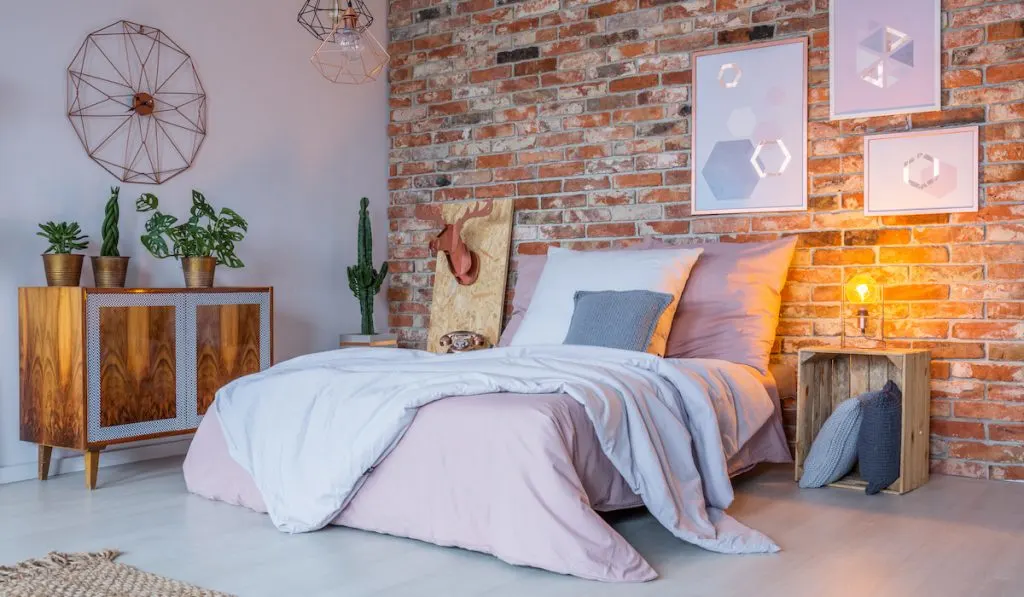 Industrial interior design
This design proudly displays the parts of a building like the unfinished parts, such as pipes and ducts that many try to conceal. It adds a raw and unfinished look to the most carefully designed spaces.
As stated, it is characterized by raw textures, exposed building elements, and metal finishes and fixtures that are uncovered while converting former industrial spaces like factories to residential living spaces. These elements are a constant reminder to the residents of the building's original purpose.
A rustic finish is the key finishing feature with layers of chipped paint, reclaimed wood, and salvaged pieces of furniture, among others, being ideal for this style.
Neutral tones, with a color palette of grey, white, and black accents with wood and warm tones from brick to leather are dominant.
Other colors can, however, be carefully incorporated through accents like artwork, tapware, rugs, textiles, and crockery.
The industrial interior look can be further achieved by pairing metal chairs with a wooden table and vice versa, exposing pipes and ducts, and a kitchen with stainless steel counters.
A sharp and common style popular for this design is the use of exposed pipes for an all-white space. This creates the perfect blend as the color of the ceiling and the walls contrast that of the metal piping.
The trick of exposed pipes could be enhanced further through furniture finds, such as creating shelves with exposed pipes as their pillars, to give an industrial feel.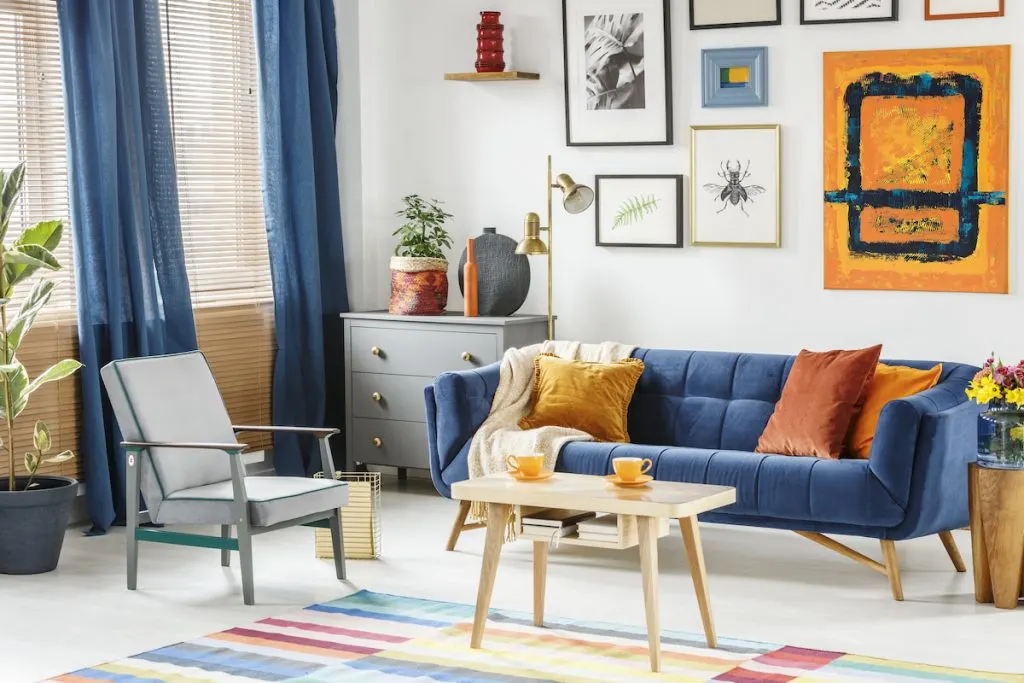 Eclectic interior design
An eclectic style is all about blending and creating harmony between juxtaposing textures, disparate styles, and contrasting colors to have a cohesive and beautifully assembled space.
This style is known to be experimental and playful, as it gives you the freedom to introduce any piece of your liking to the blended space.
It is advisable to take advantage of what you already have within the eclectic space as the basis for choosing and introducing new pieces to the room.
Character-wise, the eclectic design is highly personal as it looks to have pieces from different eras, many designs, and from various cultures and backgrounds. It, therefore, takes effort to go for what you wants for the space.
Nailing the eclectic look is achieved through thoughtful and careful editing and linking of disparate elements through their colors and textures.
For example, it is good to use one texture at least three times in different spots within the home for cohesion.
You should also clearly define and show contrast within the eclectic space, like contrasting soft and hard textures as in the case of luxurious sofas and throw cushions next to an antique industrial coffee table or mixing rough and nubby textures such as marble surfaces against wood grains.
The best way to do this without being extreme on a single style is by introducing the textures and contrasts in doses.
It is also fun mixing and matching the different furniture design styles, as it takes a good eye to spot and choose the pieces complimenting each other for an eclectic space. This style is all about mixing the contemporary, old, new, classic, and modern.
The lighting fixtures seal the eclectic look, as the light is tasked with the responsibility of creating harmony, even with the most contrasting pieces.
Antique lighting pieces like copper chandeliers are recommended because they produce golden hues of light, most ideal for creating the much-needed harmony.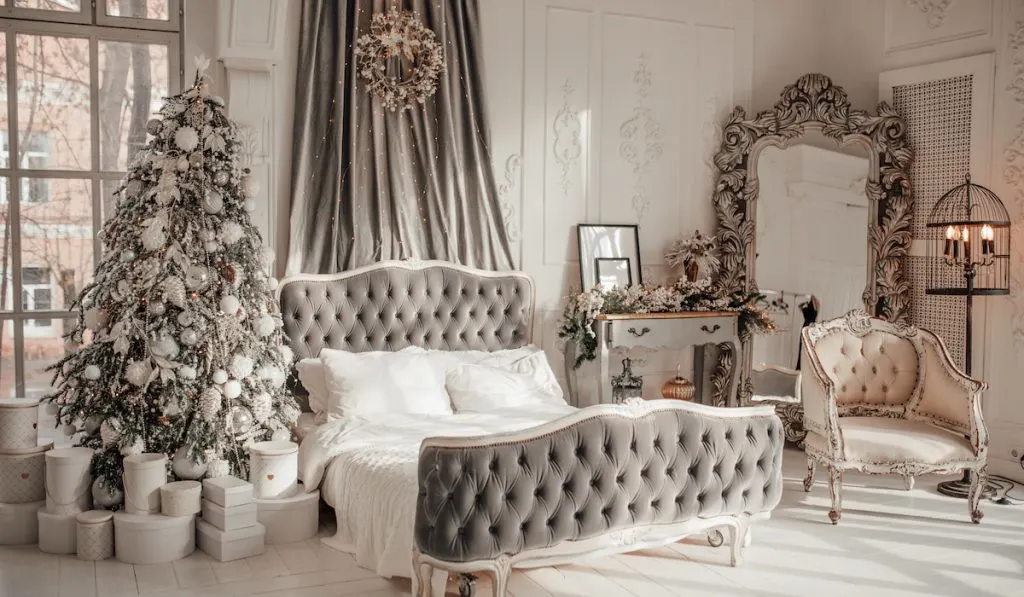 Baroque interior design
Baroque is a European-influenced style, associated with grandeur, opulence, and luxury. Sleek materials such as granite and marble are used amongst intricately designed furniture and gilded accessories.
The furniture is detailed, sumptuous, and sometimes excessively decorated for luxury. The pieces are delicately balanced and integrated harmoniously amongst the elaborate ornamentation.
This includes the irregular curves, oversized moldings, elaborate scrolls, and twisted columns mainly found on chairs, sofas, cabinets, and tables, which creates a sense of motion and dynamism.
These pieces also show off strap-works, pilasters, symmetrical structures, minute details, and religious themes, with the decoration of heavy moldings and sometimes pietra-dura, a mosaic-like technique that incorporates colored stones, cut and shaped to fit different patterns.
There is an exclusive and high demand for exotic woods for this style, especially mahogany and ebony. This does not, however, exclude the use of local woods such as oak, chestnut, and walnut.
The recurring element of the inlays is achieved through the insertion of different materials and a range of contrasting colors. The furniture was also characterized by marble slabs, often achieved by blending contrasting shapes.
The most outstanding feature for this style is the gilded finish, associated with wealth and luxury, most having decoration with golden accents like Louis XIV and Versailles.
The appropriate lighting seals the finish for this style, with candles and lanterns being the main lighting pieces.
Lighting is made lively and elegant with trends like candles flickering on wood, pewter, and brass stands, while iron lanterns are aligned along the walls of the hallways.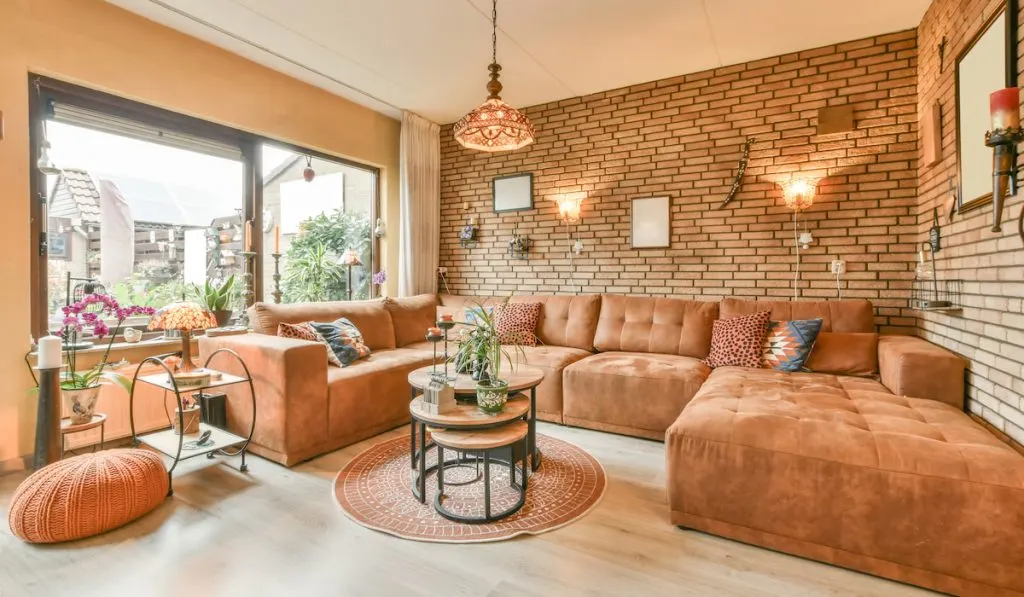 Contemporary interior design
The word "contemporary" means "of the moment". As suggested by the title, contemporary design, therefore, means that it is of the current time.
Its roots trace back from the mid-20th century to the 1970s to now, and therefore make it hard to explain. The design styles of these eras are constantly evolving and changing, depending on the taste of the clients.
What is of the moment right now may be outdated in a few years to come. Currently, this design style is characterized by neutral colors, curved lines, and minimalism.
Blends are also incorporated, as this style welcomes the traditional, modern, art deco, and even including futuristic designs.
This style is known for lots of cross-overs with other aesthetics. The contemporary spaces often feature a lot of curved lines, an eye-catching feature borrowed from art deco.
If you are doing some renovation, you should consider incorporating eye-catching architectural designs like an elegantly curved and shaped fireplace or add some curved pieces of furniture, décor elements, and lighting.
Neutral shades are the pillars for this style. A color palette with hues of whites, greys, blacks, and tans being dominant is commonly used. This does not, however, imply that other colors and patterns are not welcome.
Solid colors are used sparingly to make statements, but a splash of other colors is used for blending other neutrals.
When blending with other colors, remember to add a significant amount of texture to clearly bring out the contrast in the different hues for visual interest.
Natural light is key to achieving a contemporary look within a space. You should try at all times to maximize the amount of natural light within the room. The contemporary architecture incorporates windowed walls, especially for this factor.
When using other sources of light, apart from natural light, ensure the light is ambient, meaning that the light should fill the majority of the room, and you should be able to move around safely. This light's source could be from recessed lighting fixtures, wall mountings, or track lights.
Accent lighting is also encouraged, or the kind of light that focuses on a special point to highlight certain features like a piece of wall art.
This mood lighting is often provided by wall-mounted fixtures, track lighting, and dimmers.
Task lights, on the other hand, are specific to help you complete certain tasks. This can be provided by pendant lights hanging over a working space or desk lights.
Conclusion
Depending on your space and likes, different interior designs are fit for different spaces.
When doing a renovation of your interior, it is always good to start with what you already have to determine the next piece that you are planning to incorporate, as discussed in most of the styles above.
It is also good to have guidance from a qualified interior designer on how to go about the tasks of decoration whenever you are not sure of the pieces to blend or incorporate.
However, the list above only details a few of the common and popular styles. Among other styles extensively used are the likes of Chippendale, Brazilian design, Bohemian design, Carolean, Commonwealth, Cool Britania, Country, Danish, Directoire, and many others.
Resources