What is colonial-style interior design?
*This post may have affiliate links, which means I may receive commissions if you choose to purchase through links I provide (at no extra cost to you). As an Amazon Associate I earn from qualifying purchases. Please read my disclaimer for additional details..
Colonial style interior design is a classic traditional piece of art meant specifically for a country look with painted wood surfaces, paneling, ornate dado, and plasters mainly used in both the interior and exterior.
This style has a history ranging back to the mid-1600s with their design's main features being the veranda for the front, a large fireplace with a chimney, large framed windows, and sometimes a live or picket fence around the compound yard.
The furniture is designed with different styles majorly with influence from the English design, although the design industry for the furniture has evolved over the years to suit the different desires of the market in different times.
Main features of colonial interior design
Most colonial architecture was inspired by the European settlers like the English, French, Spanish, and Dutch who settled in America. They mainly built 2 or 3 story homes, with wood and brick used to cover most of the interior and exterior respectively.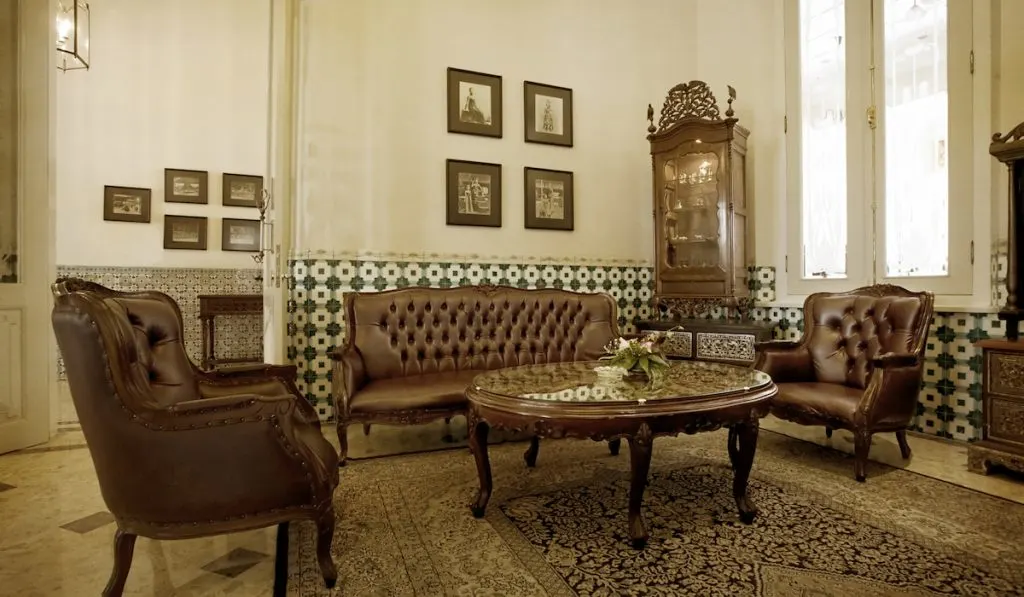 It was also popular for the specific characteristic of a spacious home with a backyard, and was commonly referred to as the 'American dream'.
Most of the designs also used bright colors like white, but others chose to go with softer colors like yellow, green, blue, brown, and pale peach for their elegance, softness, and non-saturated look. They often stood out without overwhelming the room.
Wallpapers and paintings were a common feature too for the inside, as well as a rich touch of colors, fabrics, and patterns, for an eclectic and colonial look. Most fabrics were made of cotton, wool, and linen.
For a warmer and more calming interior, most of the colonial styles use other design features like beautiful indoor plants to complete the interior colors and add elegance to the room,
They also used softwood for furniture and other accessories, and a plantation of day beds in the backyard.
The living room was made more comfortable with large sofas and oversized armchairs with lots of large pillows with different patterns on them.
Bright color patterns with flowers were used to decorate most rooms alongside patterned lampshades and ornaments, as they always brought out the elegance and beauty of the interior.
The dark shutters used helped to compliment the bright walls.
Subsets of colonial interior design
American colonial interior design
This style of interior design originated in the 18th century and borrowed heavily from the European styles of the day. The change from the borrowed styles however was the grandeur, added to the farm-houses in America.
Immigrants brought with them their home styles, with were heavily marked and influenced by their simplistic lines of the day.
There are different themes that one could choose to have a colonial design feel in their homes. Among the most prevalent are a traditional and rustic theme and a more opulent theme such as those that would have been found in the colonial times.
It's easy to achieve the look. Handworks such as embroidery, rag-rugs, slipcovers, and other essential traditional quilts were common because it was expected that women would spend their time creating the beautiful accessories.
Ivory and grays were common colors embroidered on woodworks and walls, for the American colonial look.
Features of the American Colonial Look
Simplicity in the interior – the interior was kept versatile and functional with clean lines on the view. Handworks such as rugs gave the interior elegance and warmth that always made it welcoming and inviting.
Handicrafts and quilting – ladies were mainly tasked to do the craftworks. There were design books for specific tasks or a design book would be made according to the specific customization features someone needed.

When ready, the quilts and handicrafts would be used as decoration for the interior, on the beds, and walls, in modern society, you could customize this on pillows and cushions.
Colors – natural and somber shades of paint were common for the American colonial design interior. Soft and muted colors like white, brown, gray, yellow, and red were common and fitted just perfectly.
Floors, walls, and windows – the floors were mainly made of hardwood, mainly cherry, mahogany, or walnut. Walls were paneled or whitewashed with paint and had stenciled decorations of flowers at the borders or murals.

The designs were majorly two stories with five windows, and the front door directly beneath the middle window on the upper story.
Furnishings – the rustic styling heavily used insisted on large traditional furniture. Cast iron lamps with chandeliers and candleholders were the best for lighting the interior and successfully achieved a satisfactory look. Cut-glass doorknobs, gilt mirrors, and brass knockers also characterized this style.
Primitive colonial design
The primitive colonial style used primitive folk art pieces with muted colors and rough surfaces to give a simple look to the interior décor.
They either used antique pieces of furniture or contemporary art, which was also designed in a way that replicated the old vintage and antique pieces but used modern materials. These included the use of soft colors and sanding paints to create the perfect country style.
This style also incorporated themes that were common like pottery, primitive wooden designs, saltbox houses, rag dolls, barn-stars, and even primitive dolls to decorate the interior.
This style was popular amongst farming families, as the pieces and accessories were mainly made by farmers.
Features of a primitive colonial look
Porch and foyer – porches were characterized by large crocks that gave an inviting look to the home and spacious places to sit. The front door also had grapevine wreaths which were subject to appropriate decoration depending on the season.

The foyer had beautiful antique furniture like a Windsor-style chair that allowed someone to sit as they changed their footwear. The porch also had boards with hand-crafted pegs, best for hanging jackets and other outdoor wear.
Living room – wooden floors were common with the decoration of braided rugs with patterns such as hearts or pineapples, which added a taste of beauty and comfort into the interior.

The country look was further implemented by the wooden spools beautifully arranged on a quilt scrap, with a large wooden crate standing in for a modern table. The most eye-catching feature was the large barn star above the fireplace.
Kitchen – the kitchen countertops were beautifully marked with vintage baskets, crocks, and other woodware which were used to hold utensils, fruits, vegetables, and other groceries. For the dining, a large wooden farm table with simple plank bottom chairs was the most ideal.

This setting was also multipurpose since besides preparing and eating meals, it could also be used to do paperwork and homework, play games, and other activities requiring a wide surface. Rustic beams hanging from the ceiling were common too, mainly for drying herbs and hanging flowers.
Bedroom – the primitive bedroom is marked by layers of the quilt on pillows and dolls. An antique blanket chest at the bed's foot also contributes to the primitive style and provided storage. On the vintage dressers were a display of vintage teddy bears to add a whimsical and spectacular look to the room
Georgian colonial design
The Georgian is a classic traditional style worth emulating. The interior is marked from the simple wood designs inspired by lavish Queen Anne's antiques.
Features of Georgian design
Antique-filled rooms – high-quality antique furnishings were common. Sheraton, Queen Anne, Hepplewhite, and Chippendale were the most common and popular styles. These styles encouraged highly polished wood and rooms with no clutter.

The less rich styles were cottage-style and more rustic but either way, they were kept and always remained elegant and cozy. Cherry, walnut, and maple woods were used for the high-end furniture, while pine and birch woods worked well for the simpler furniture. These furnishings were always well crafted with carvings being common.
Colors – for the Georgian look, soft and muted colors gave the perfect finishing look and gave an airy feeling. Among the most common colors were muted greens, yellows, soft blue, pale peach, taupes, and browns.

To achieve this look in your home, you first have to choose a color of your liking but it should be soft, so as to bring the needed elegance to your space.
Architecture – painted wood molding and plaster were used for both the interiors and exteriors. The walls, floors, and ceilings were covered with some form of trim, majorly having being influenced by the classical Greek and the French aristocratic styles.

Paneling, picture rails, ornate dado rails, and crown molding were common for the walls, finished by elaborate archways for doors. The trims were finished with off-white color paints and later came the adoption of wallpapers, all of which had a perfect finishing for the Georgian look.
British colonial design
The British settlers all over the world brought with them their traditional styles and designs that were adapted locally.
These diverse styles introduced a classic style that is still copied today, as it evokes an era that was full of pure gentleness and elegance, and is more appealing, relaxing, and comfortable.
Features of British colonial look
Leather trunks – the British style is much influenced by their leather trunks and bags, all of which were beautifully aged. The trunks are good for storage and side tables. They had brass buckles and clasps which are still used today to evoke their gorgeous look.
Textiles – the original designs were from England but later were adjusted to fit the changing environment, without losing the original look. Animal prints were also good to introduce this accent, especially when used as the floor mats.
Rattan and Teak Furniture – the British style combined both the soft tone of light rattan and a neutral warm brown of teak for a beautiful and unique look.
Indoor plants – indoor palms were popular for their dark green color as their presence simply added life into the interiors. This color also complimented leather, brown, timber, bamboo, and rattan pieces in the interior.
Canopy beds – these were four-poster beds, which were viewed as the hallmark for this style. It also adapted over the years to fit every era.
Spacious and comfortable living rooms – for the British interior, tall windows provide sufficient light, and the curtains, chairs, and couches determine and finish the interior look. The oversized sofas, couches, and large rattan and timber chairs and side tables gave the look of a classic and timeless warmth.
The entryway – they had simple design staircases at the entryway for easy convenience because of the common multilevel houses.
Dutch Colonial Design
The Dutch had the most unique architectural designs for their homes, and most are copied to date. Their houses were made of brick and stone, broad and double pitched roof slopes, and protruding chimneys.
The windows were majorly incorporated into the roofline but the designs have since changed to adapt to times. They are quite innovative and highly customizable.
Features of Dutch colonial look
Gambrel roofs – also known as the Dutch or barn roofs had two slopes, one at a slight angle and the next one at a steeper angle. This gave room to the usage of the upper level without necessarily building two stories. Alongside this, they had dormers galore which helped them do the lighting to evade cost for a second story.
Double-hung windows – they commonly consisted of multi-paned windows, with mainly six or eight windows. They help to implement the overall cozy and comfortable look.
Exposed fireplace – chimneys that were exposed were like signatures to the Dutch architecture, who were believed to be master masons. There were also commonly two fireplaces for a home as they needed the fire for both cooking and warmth, therefore having two.
Covered porches – the Dutch usually had a wide covered porch to have a shaded space to enjoy the outdoors.
Dutch door – they are also called barn, stable or double-hung doors. The most outstanding feature is the horizontal cut through the middle, which allowed the top part to be open for air circulation while the bottom part remained closed, to prevent animals from coming in.
Modern colonial design
The design for modern colonial spaces brings out pure elegance in their spaces.
Even though they have a twist and are customized and modernized, they do not lose the taste of the vintage pieces that add the difference in age to your space.
Features of modern colonial look
Floral patterns – the patterns are commonly found on pillowcase covers and drawings. They add beauty and elegance to the room.
Wallpapers – modern colonial design interior embraces a wide range of wallpaper patterns, as long as they compliment the other colors of both the furnishings and other accessories.
Textiles – color patterned rags and other hand-made textiles are common for modern colonial interiors. They add an essence of art, elegance, and style into their space.
Colors – soft and muted colors are best suited for both the interior and exterior shades. The colors maintain a muted tone, which makes it easy to have more combinations with other pieces of furniture and accessories.
Resources