*This post may have affiliate links, which means I may receive commissions if you choose to purchase through links I provide (at no extra cost to you). As an Amazon Associate I earn from qualifying purchases. Please read my disclaimer for additional details..
Pampas grass is a very popular plant that commonly grows around the world. These plants may be bought and planted but are often found in the wild. Their large fluffy seedheads are often harvested and used as natural decorations in the home.
Dried pampas grass plumes can lose their open shape over time. Thankfully, they can easily be fluffed up to restore their texture and depth, which may also increase their lifespan.
One trick that helps pampas grass fluff up is using a hairdryer. You can use a hairdryer on a low setting and blow the seedhead for about five minutes to restore its airiness.
This trick allows the plumes of the grass to expand and therefore gives them a fluffier look and feel.
Why maintaining your dried pampas grass is important
Once the seedheads are removed from the plant, keeping them fluffy and healthy-looking is essential. It is natural for them to lose shape and fullness over time, but when properly cared for, your decorations can last years.
Once you have allowed your dried pampas grass to acclimate to the indoor environment, you can expect light shedding when air movement is stronger. Periodically giving the stems a light shake can dislodge any loose pieces.
To minimize shedding, you can spray the grass heads lightly with hairspray to help them stay intact.
Key tips to the perfect dried pampas grass
Pampas grass has become a favorite decor trend of late. Online sources sell already dried stems or you can dry your own if you have pampas grass plants in your garden. The drying process is simple and consists of harvesting then hanging the stems in a garage or shed until they are dry.
Then bring them in and arrange them in elegant vases or containers to add a natural flair to your decor.
Below are some simple tips for keeping pampas grass heads looking their best:
Make sure there is air circulation around the heads and an adequate amount of space among the stems in the arrangement. This allows them to be able to breathe and keeps them healthy.
If growing your own plants, gently combing through the seedheads prior to harvest, from the stems up, will increase air circulation and may help promote growth.
To stop your dried pampas grass from shedding, you may also use hairspray. Applying a few gentle mists will preserve their shape and reduce shedding.
You can tie the stems together with string to enhance the airy effect.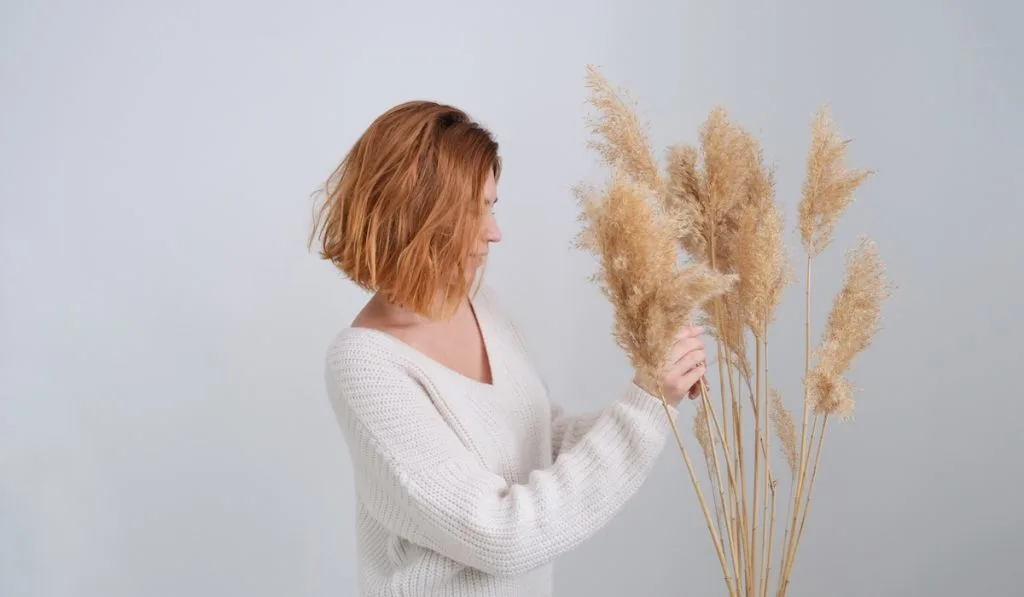 How to keep your pampas grass
As mentioned above, there are a variety of ways to keep your pampas grass fluffed and lovely looking year-round!
In addition to misting with hairspray, keeping the pampas grass heads out of direct sunlight will prolong their decorative life. Sunlight, even filtered through windows or sheer curtains, promotes desiccation and will hasten drying and increase shedding and deterioration.
It is best to display your pampas grass in cooler locations within a room out of direct sunlight.
Also, avoiding humidity and other sources of moisture will help the pampas grass last longer. Moisture will enhance clumping of the airy seedheads and promote mold growth.
Even once it is dried, your pampas grass can still develop mold and mildew when it becomes damp. When this happens, you will need to get rid of the moldy stems, they cannot be saved.
In Conclusion
Pampas grass is a stately plant in its natural form in the garden and also lends itself to drying and preservation for enjoying indoors. Its neutral wheaten color blends well with natural decor themes.
With a little preparation and periodic attention, you can keep dried pampas grass heads looking fluffy and fresh for several years.
Resources