*This post may have affiliate links, which means I may receive commissions if you choose to purchase through links I provide (at no extra cost to you). As an Amazon Associate I earn from qualifying purchases. Please read my disclaimer for additional details..
Sheer curtains are one of the most popular types of window treatments. Sheers are very light in weight and can be used in both homes or offices.
They have a transparent effect that allows light to enter through the window while still providing privacy for those inside. Sheer curtains come in many different colors, sizes, styles, and designs, so it is easy to find something that fits any room perfectly!
If you're looking for a way to brighten up your home or office space that doesn't require too much work, then versatile sheers may be just what you need. However, before purchasing them for your home, you should select the right type for your needs.
Here is a guide for the different types of sheer curtains you can find in stores.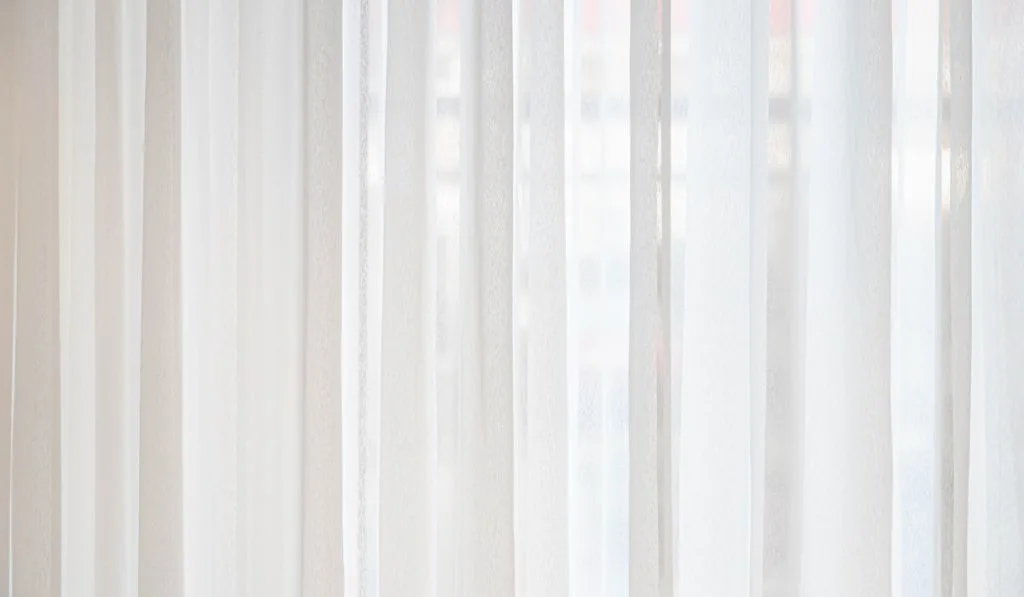 Types of Sheer Curtains
1. Voile Sheers
These are net curtains made from lightweight fabrics that don't provide complete privacy. They come in various colors and patterns to match any interior décor.
You can hang them on your patio doors or even as backdrops during events. If you are looking for sheer curtains that can be used on doors, then this will work for you.
They are also lightweight and are mostly used in warmer seasons to create a breathable feel in the home. You can layer them with heavier or blackout drapes to get additional privacy.
2. Semi-sheers
Semi-sheer curtains are not as translucent as sheer curtains. The weaving found on them is denser, allowing just enough light to pass through them. They offer better privacy compared to sheer curtains.
3. Polyester
This fabric is the most common material used for making sheer curtains. It can easily be washed in a machine with mild detergent to keep it looking new.
If you plan to use these curtains for outdoor purposes, this type will work best because they neither fade nor shrink when exposed to sunlight or water. Polyester is a scratch-resistant fabric, so these curtains don't show signs of damage.
4. Nylon
This material is perfect for those with pets at home because it doesn't easily collect pet hair and dust particles.
It remains smooth even after several washes, but you need to dry clean this type of sheer to protect it from shrinking and color fading.
5. Silk
This material is very luxurious and imparts a royal touch to the interior of your home.
Silk has a fine, shiny grain that imparts an elegant look to curtains. Even though silk sheers are highly durable and long-lasting, they are very expensive, and you can easily notice wrinkles on the fabric.
You can purchase silk curtains online, but they also come in a variety of textures and designs that will add an elegant touch to your interior.
6. Polyester-Cotton Blends
These fabrics are created by mixing both synthetic and natural fibers. The blended fabrics are then woven to create a fine finish that speaks of elegance. They are more durable than cotton or silk but are also prone to damage due to fading and shrinking.
This type of sheer curtain is very durable and is measured in thread count like bed linens. It is resistant to wrinkles and fading and feels soft to the touch and eye. You can easily wash this fabric blend in a machine or even hand wash it without issues.
7. Polyester-Acrylic Blends
These fabrics have a fuzzy appearance that makes it easy for you to identify because they resemble wool.
They are a little more costly, but they come in various colors and designs to suit your style preferences. This blend will accumulate wrinkles if you wash them in anything above the low-temperature setting on your washing machine.
8. Polyester-Viscose Blends
This type of fabric is known for its softness and silk-like feel.
The biggest drawback to this blend is cleaning it. Even though this type is very durable, it is better to dry clean it as water can cause shrinkage and wrinkling.
9. Rayon
Rayon is one of the most luxurious types of fabrics that are used to make sheer curtains.
It is highly durable and machine washable, and you can easily maintain it by wiping with a damp cloth or washing it with water if the stains are not too stubborn.
Dry cleaning this type of fabric will retain its luster for longer periods.
10. Acetate
Acetate is a cheaper form of sheer curtains that is most commonly available in shopping malls or chain stores.
You can easily spot wrinkles on this fabric, and it has lower tear strength, so you should only wash it by hand.
11. Silk Satin
Satin imparts a rich feel to your interiors and comes in different colors and designs of your choice.
If you choose this fabric, make sure you use low-temperature settings while washing it to prevent shrinkage of the material.
How To Get Privacy with Sheer Curtains
Privacy is one of the primary functions of a curtain. In addition to blocking out light, curtains can also be used to block the view into your house.
However, when the night sets in, your home may be exposed to the outside world. When you want to get privacy with sheer curtains, there are certain things you should do. Here is how to get privacy with sheer curtains:
Use Drapes as Sheer Companions
Drapes are often used on formal occasions mainly because of their luxurious look. If you want privacy, use drapes together with your sheers. This is because some drapes have a thick lining that prevents seeing through them.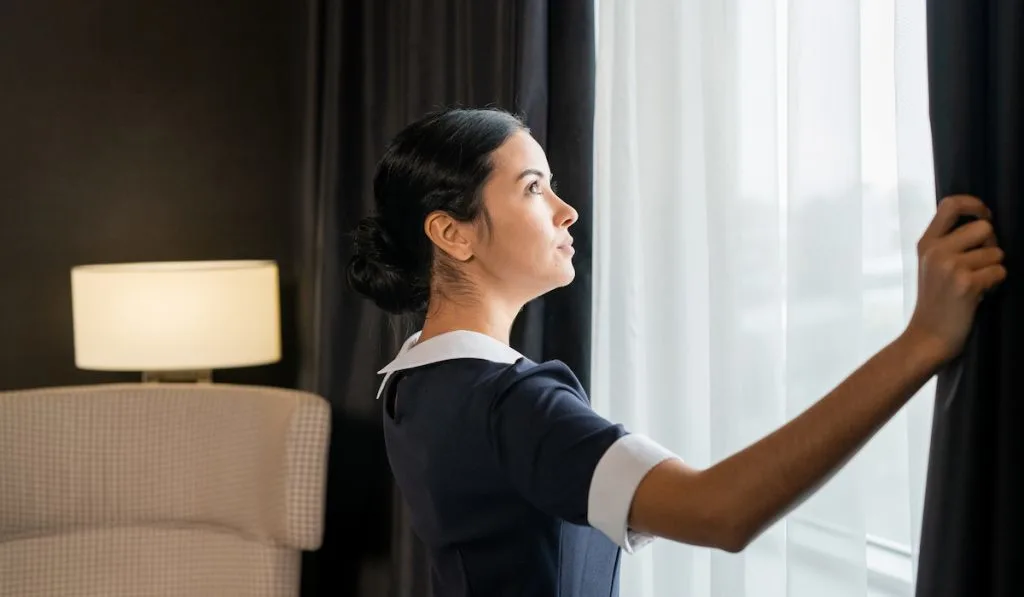 An Added Fabric for a Design
Add another fabric as a design. Not only will it look elegant, but it will offer you privacy. If you have a window that requires privacy, go for the sheers with an added fabric.
Doubling Sheer Curtains
It is the easiest and widely used method of getting privacy with sheer curtains. You will need a similar sheer curtain to the one you already have for this method.
If your window has two layers, you can put the second sheer curtain on top of the other. This will ensure that no one can look inside your house. Therefore, add an extra layer to make them two sheer curtains on either side of the window.
Give your Sheers a Sophisticated Look
When it comes to displaying your sheers, you can do it in many ways to brighten your space. Here are a few ideas you can try to see what works.
Make a Window Scarf: You simply have to place a sheer over a curtain rod and drape it to form a "U" design. You can switch the window sheers to suit your style. Add more elegance by throwing in another shade to add color to your window.
Hang Sheers Over Your Bed: You can easily use sheer curtains to liven up your bedroom if you have higher ceilings or a four-poster bed. Hang a sheer curtain like a canopy over your four-poster bed and liven the bedroom.
Final Thoughts
Getting the best sheer curtain requires some thorough research before you shop around. You need to know what type of sheer curtain is right for your household, what color fits best, and what style would be most suitable.
We hope that you can pick out the best sheer curtains for your home and give your living room a new look with the above information.
Resources: