*This post may have affiliate links, which means I may receive commissions if you choose to purchase through links I provide (at no extra cost to you). As an Amazon Associate I earn from qualifying purchases. Please read my disclaimer for additional details..
Net curtains are popular for the benefits of letting in natural light while maintaining some indoor privacy. Although they are transparent, net curtains have always charmed people by fostering a cozy warmth in the living space. Furthermore, they are popular for smaller spaces because they let in more light, giving the impression of a larger space.
No matter the reason or the residence's location, many people like to keep their windows open to admit light and exchange air without worrying too much about privacy.
However, in the recent past, many homeowners have shifted away from net curtains, mainly because they feel the designs have become too old-fashioned, outdated, or boring.
If you also feel that your net curtains are getting boring or out of style, maybe you should move on as well!
Several alternatives can complement and revamp your window space with beauty and elegance besides extra privacy and security, adding value to the living space.
If you like light and privacy and are looking to substitute your curtains with something new and creative, this article is here to help you identify the alternatives and guide you through a few choices for your window spaces. Read on for a detailed look at the options.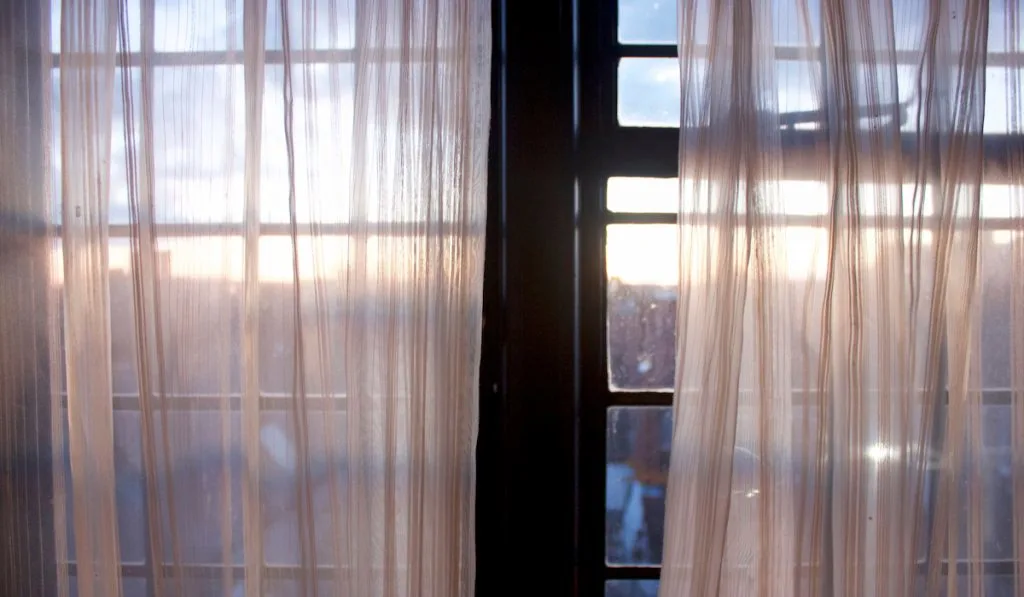 How to Choose Alternatives to Net Curtains
If you have decided to do away with the net curtains, take your time to figure out your options to replace them.
Some options, like shutters, are expensive both to install and to remove, just in case you think otherwise, so you should be certain that you need them before you install them.
Therefore, what should you consider when deciding what to replace your net curtains with? Here are a few questions to help you figure things out;
How fast do you want the replacement done?
What's the motive for covering the window? Is it about light, privacy, or both?
Do you need anything customized first to blend and match with your new curtain replacements?
What are the interior and exterior decor styles? Do they match?
How much have you budgeted for the changeover?
How do you live? Do you have kids, pets, or any other important part of your lifestyle to consider?
How likely would you be to redecorate in the near future?
With these factors put into account, choosing the perfect replacement for net curtains shouldn't be complicated.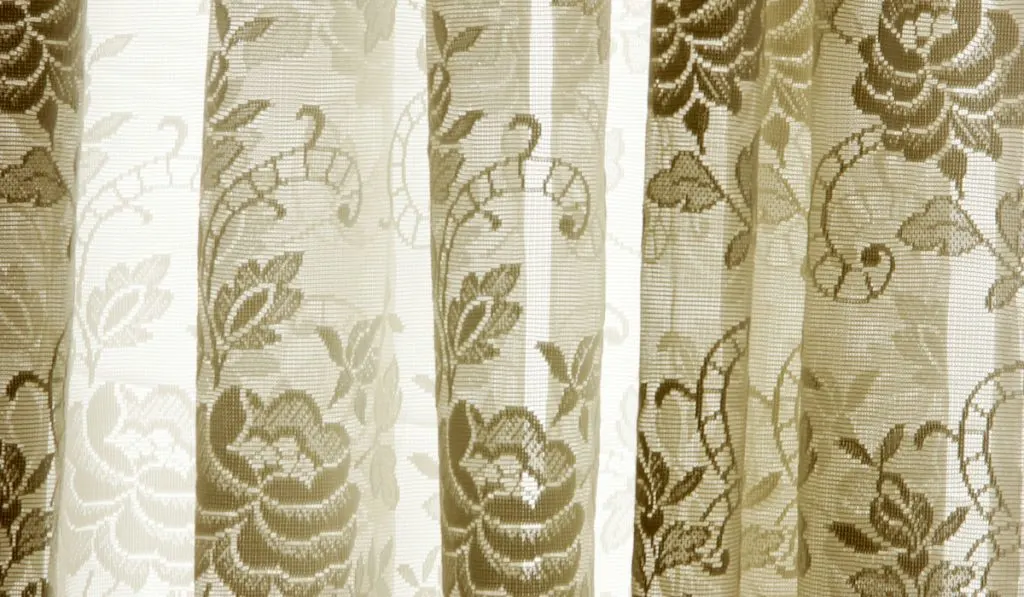 9 Alternatives to Net Curtains
With all factors put into consideration, here are the alternatives to net curtains for your window spaces:
1. Shutters
In the recent past, plantation shutters have gained fame as a popular window treatment. Even though they look fancy and great once installed, they are quite pricey to purchase and maintain and need the expertise of a professional to install.
Once installed, they give your house just enough light as well as maximum privacy, among other benefits like noise reduction and insulation.
Shutters are also custom-made to your window's specifications, so it shouldn't be a problem being compatible. Additionally, shutters are available in a variety of stains and colors, making it easy for you to match them with your home decor.
If you have windows that frequently tilt, or you need to cover them often, shutters might not be for you. On the other hand, if shutters are what you want, you will need to plan ahead with lots of patience since they take the longest lead time to build, simply because they are mostly customized to specific windows.
If you are looking to bring in more light and enhance visibility, larger shutter slats will be the best, besides looking more stylish and modern. You may enhance the shutters to bring in more light, even in an event of a gloomy sky, by painting them in bright hues.
However, shutters may be too heavy and end up darkening the room, so they are not the most ideal for small spaces. They also need a lot of maintenance since they collect a lot of grime, dust, and debris daily, so expect to spend more time cleaning the shutters.
2. Frosted Window Films
Also known as magic screens, frosted window films are nowadays popular because they give the homeowners the trendy, contemporary, long-lasting, and sleek option instead of net curtains for their homes.
The most outstanding feature of window films is that they allow maximum light into the house while keeping off any unwanted eyes.
They are especially resourceful if you live in a street with lots of passers-by because they will give maximum privacy during the day. At night, however, you must use a secondary drape like a curtain because the magic screening effect reverses as soon as the sun goes down and the lights are switched on.
You do not need any expertise to handle window films, they can easily be installed in less than a minute and are customizable. Besides, they are available in a range of themes as well as in stained glass effect films.
You can also modify and get creative with the films as much as you want. What if you cover a portion of the window to get a certain look? Experiment with many combinations.
3. Vertical Blinds, Fitted Blinds, or Roller Blinds
Blinds are available in a wide range of colors, styles, and designs that make them a good choice to go with any decor. However, they are more expensive compared to curtains and frosted window films and are time-consuming to install.
Unless you would like to try it yourself, which can be risky and time-consuming, the installation of window blinds is best left to the professionals.
Some blinds are also more suited for office space than homes, while others are more appropriate for homes than office spaces depending on the available spaces themselves. Therefore, find out the best blinds for your available space.
However, if you have pets or children, using blinds can pose a security risk, as the cord used in binding the blinds has been associated with several accidents at home. If you must use them, ensure that every blind should comply with local blind and shutter safety requirements.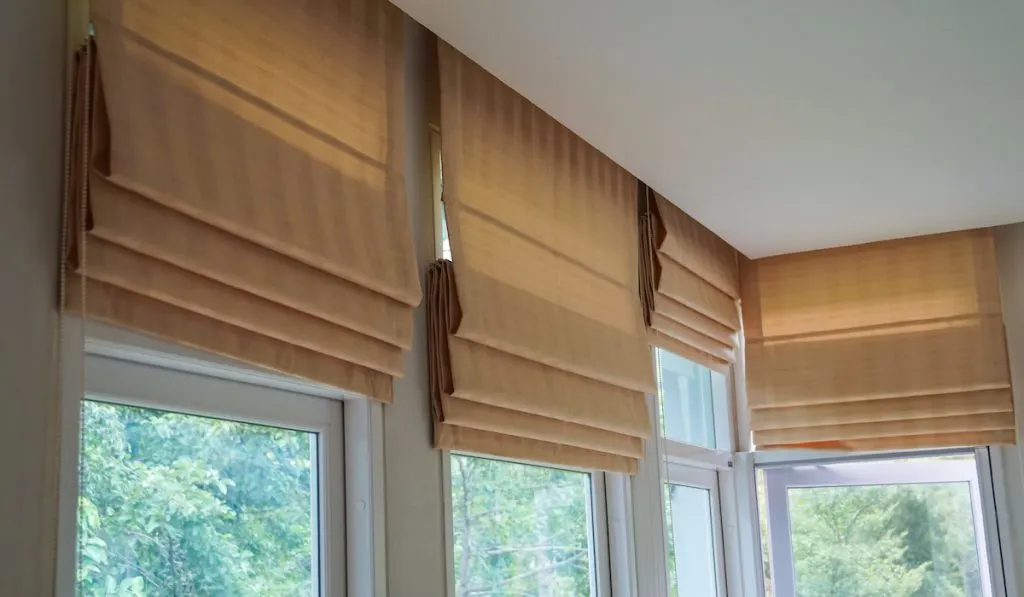 4. Roman Blinds
Roman blinds won't necessarily be your first choice for a net curtain replacement because they are known to block out most light. However, that can be entirely reversed by using a thinner, and lighter-colored cloth that will let in more light. With their sophisticated appearance, Roman blinds provide greater privacy while maintaining an updated and contemporary look compared to net curtains.
White or lighter colored transparent fabric roman blinds are worth considering because they let in the diffused daylight while maintaining maximum privacy. Neutral colored sheer Roman blinds, on the other hand, would be a great touch to a minimalist home design.
If you want a designer-worthy appearance while adding warmth and elegance to your home, roman shades are an excellent option for you, although as aforementioned, they won't always be the first option.
5. Sheer Curtains or Voiles
Voiles are among the best alternatives for net curtains. "Voile" is French for "veil", giving meaning to the coining of the name. They are often made of lightweight and natural materials like silk, cotton, among other synthetics.
Compared to net curtains, sheer curtains are available in a wide range of colors and designs, and customizing them for your windows will give your windows a new fantastic and sophisticated look. Furthermore, they are easy to access and are not bulky to consume much space.
Although installing them is easy, you should check to confirm that they match the rest of the home decor. In the case of modern and minimalist decor, installing large and floaty voiles might look out of place.
If you need maximum privacy with enhanced light, you can always add an extra fabric layer alongside the voile curtain.
The best part of having voiles is that they are extremely easy to clean, both by hand wash and dry cleaning, making them the best alternative to avoid the rusty feel of net curtains. Just be sure to clean them according to the manufacturer's instructions.
6. Combine Blinds and Curtains
When replacing net curtains, you can decide to blend both curtains and blinds. Blinds will help you with the ultimate control of light and privacy during the daytime, and you can draw the curtains in the evening when it gets cold and you want absolute privacy since the lights are on.
Blending the two gives you a great opportunity to be creative with your interior design, whether to make a bold statement or just to freestyle.
You could pick a block color for curtains and a complementary color for the blinds, or you could just go with earthy neutral tones for a relaxing look.
7. Wooden Blinds
Wooden blinds are a great choice for adding eco-friendly aesthetics to your interior. Often made of either stained wood, natural wood, or faux wood, wooden blinds can be customized with a range of colors and texture choices for timeless glamour.
You can tilt and adjust the blinds according to the needs of natural light and privacy. Additionally, the compatibility of wooden blinds traverses a wide range of home decors from contemporary designs to traditional designs. Wood blends perfectly with any design.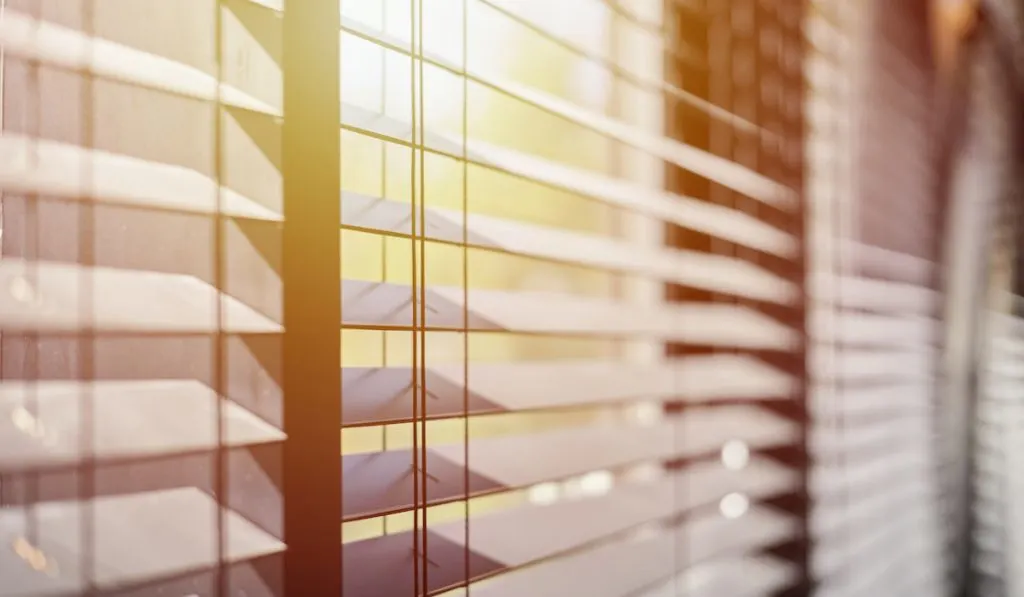 8. Install Outdoor Screens
In case you are abandoning your net curtains in favor of bare windows yet you still need a little screening, consider screening your windows from the outside.
The outdoor screen might be in form of simple structures like blinds at the back garden or live hedges in the front yard. Either way, screening helps maintain privacy while maximizing light.
9. Add Glamour with Beads
Some might think that beaded curtains are outdated and should be left closed in the pages of history. However, beaded curtains are still alive and kicking, and can make a great alternative to net curtains.
A brightly colored or a silvery finish bead will give a look of a window that glimmers rather than glaring. However, you should only use them sparingly, in one room at the most.
Conclusion
Although net curtains may not effectively keep out prying eyes, they have been popular for their light-filtering capability. However, their designs can be a bit of a let-down in style, and they gather dust, making them look pretty aged and monotonous.
With the guide above, you have exposure to several modern and stylish alternatives to net curtains that will help you enhance the natural light in your living spaces while ensuring absolute privacy.
You can't go wrong with these alternatives. Carefully pick your best choice and say bye to your outdated and monotonous net curtains, and quickly replace them with your excellent pick. You can always contact a décor designer for professional advice if you need further insight and help to choose your replacement.
Resources