*This post may have affiliate links, which means I may receive commissions if you choose to purchase through links I provide (at no extra cost to you). As an Amazon Associate I earn from qualifying purchases. Please read my disclaimer for additional details..
Futons are popular furniture for the comfort they offer. However, buying one and just finding space put it in is not enough to make it complement the room.
There are a few factors to consider when choosing the best futon for your space, as well as tips on how you can rejuvenate the futon's look in case you feel that the one you already have looked a bit worn out.
What can you do to improve the futon's look and make it classy?
The necessary improvement is not something to be done in a day but is a process that should be done through deliberate selection, especially of accessories, to finish the look while complementing the space.
Read on for details and tips on how you can make your futon seamlessly blend with your room for an elegant and classic look.
What is a Futon?
A futon is a piece of multipurpose furniture, often used as a couch, sofa, or bed for extra guests.
Since most futons don't have arm-rests, you might need to spruce it up a little to fit your space.
What to Consider When Buying a Futon
How do you choose a futon for your space? Here are a few key points to put into consideration:
Frames
Your futon might gradually undergo enhancements, but there is one design factor that cannot be altered: the frames.
When purchasing one, therefore, you should not only be happy with the design but also make sure that the frames are sturdy and durable. This will help you easily fit your futon into your space and assure you maximum comfort without safety issues for a long time.
What should you consider when choosing a frame?
Flexibility – Since the futon is multipurpose, it should easily be transformed into either a bed or a couch whenever deemed fit. One with slightly raised frames in place of arm-rests at the edges may work best.
Sturdiness – Make sure that your futon's frame is strong enough to support heavy weight. Wooden and metal materials make the best frames.
Weight – Futons are highly portable compared to couches and beds, it is the reason why they are popular. However, some others might be so heavy that it can get complicated to transform or move them around. Therefore, be keen to choose one that isn't heavy.
If you can't find or are uncertain of a design that fits your space, you should go with neutral designs because they work well with any style decors.
Mattress
When choosing a new futon, pick one with a mattress that will not easily get worn out, lest you end up with a futon with a flat mattress and exposed frames.
If you already have a futon at home, you can implement one of these two options to keep the mattress in good form.
First, you can opt to purchase a separate mattress that can either be attached or detached whenever necessary or maintain the mattress' good form by replacing it whenever it gets worn out.
Color
Color considerations are not the most popular factors homeowners go for when purchasing a futon. If you want to have a cohesive space, however, you should go for a futon with a color palette that compliments your interior or one that can easily blend with any design.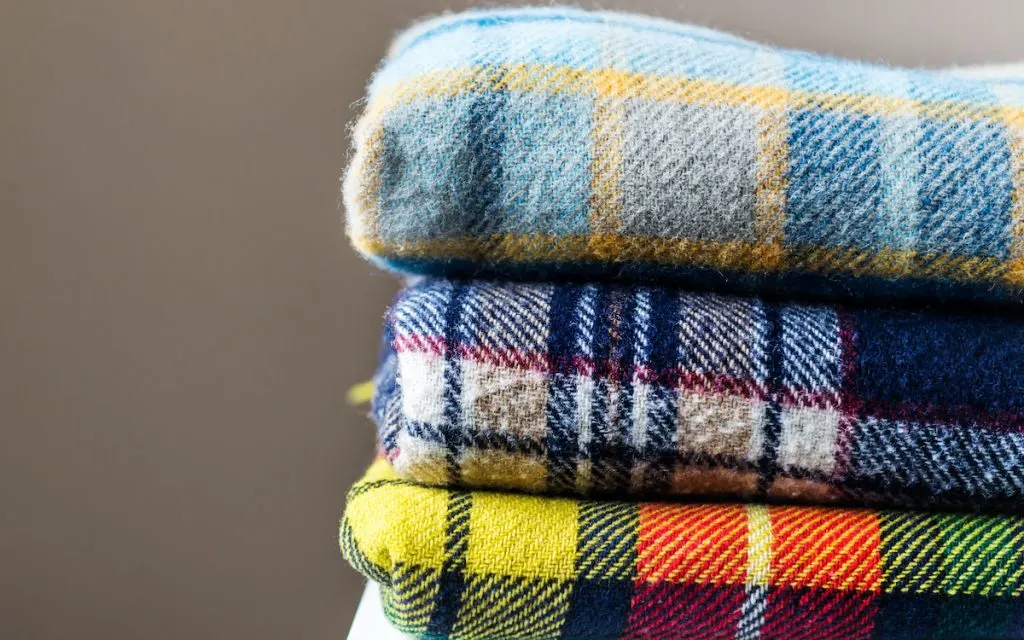 Tips to Make Your Futon Look Classy
Use Pillows at the Edges
Throw pillows are always the best for extra comfort on couches and futons. Throw pillows also make your futon attractive and appealing, and classy. If your futon doesn't have an arm-rest, you can pile up two or more throw pillows on the sides, creating the illusion of a couch.
Throw pillows are also available in many styles, colors, shapes, and designs, so you can introduce or mix designs that blend with your interior décor, as well as colors that will mix with the rest of the room.
If your futon is of a neutral color like grey, for example, you will have a wider range of designs, styles, and palettes to choose your throw pillows from. Just don't clutter the futon with too many pillows.
Blankets
Just like the throw pillows, blankets add visual appeal and a sense of invitation to the space, breathing life into your futon. Besides, blankets provide extra warmth, whether the futon is in use as a sofa or a bed. If not in use, however, the blanket can be folded away to one side of the futon as an inviting accessory.
Whether your blanket is ready-made or custom-made, such as crochet blankets, always go for one with a color palette that will blend well and compliment your futon.
Bright colors do not always go with darker colors unless you want to make a statement and make it the focal point. Besides, you have to consider the interior décor to get the most out of the futon accessories.
A few light blankets may add more color and are functional because they provide warmth when in use, and are additionally easy to clean either by hand or machine.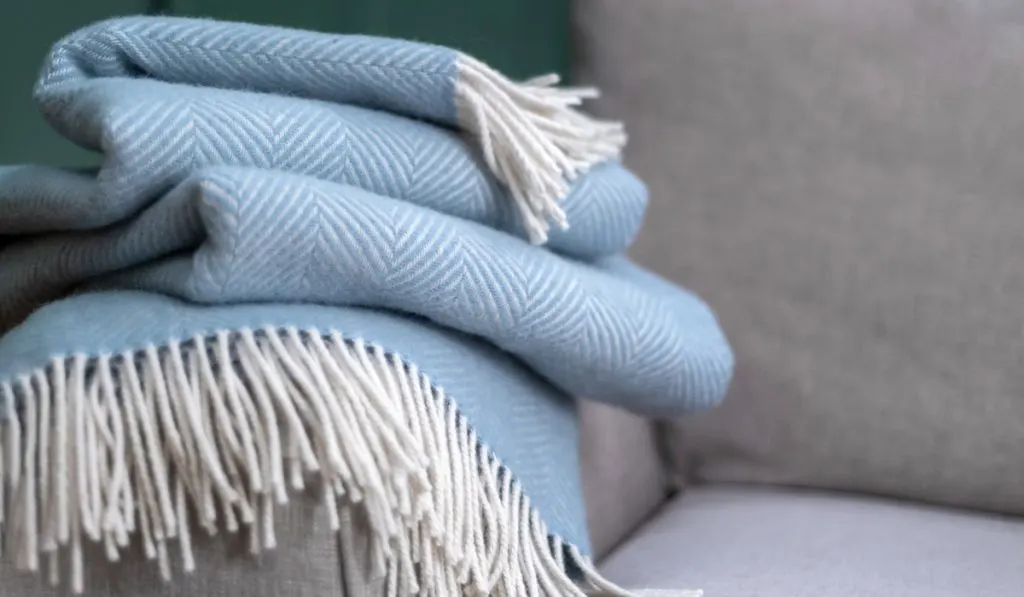 Add Slipcovers
Slipcovers are fabric cloths that tightly fit over your futon. They are arguably the most flexible element when sprucing up the futon's look since you only have to get one with the right color, put it on, and see the magic.
Slipcovers greatly influence the style of the futon besides providing extra protection from damage such as scratches on the frames and tears on the mattress.
However, if you decide to get a slipcover for your futon, be certain to get the right measurements of your futon to avoid acquiring a slipcover that is too big or too small. The wrong size will either make the futon mattress wrinkly or might expose what you are trying to hide, making the futon rather awkward than appealing.
You should also consider the quality of the slipcover because you don't want your futon's cover resembling ordinary sheets. They should be made of high-quality fabric for a classy look.
If your futon is a bit worn out or has faded color and you don't want to get rid of it, you can easily rejuvenate the look by adding a slipcover in any style, color, or design you want. You will have a new futon after!
Compliment the Futon with Lighting
Adequate and appropriate lighting can make a big difference in changing a room's look. For a start, you should let in the maximum natural light during the day for maximum illumination of the interior.
Besides, natural light makes the colors pop and shine out more. Therefore, this means that you will have to get rid of those heavy curtains that prevent light from reaching the interiors.
However, you can still illuminate your space with artificial light in case your room doesn't get sufficient natural light. These additional light fixtures could be overhanging lamps or table lamps that show off the futon and the surrounding space, often giving it some depth and better visual appeal.
Besides, with enough lighting around, futons become focal points in any space, and they are easily attractive. For this, it will often be a favorite spot for board games, reading, and relaxation.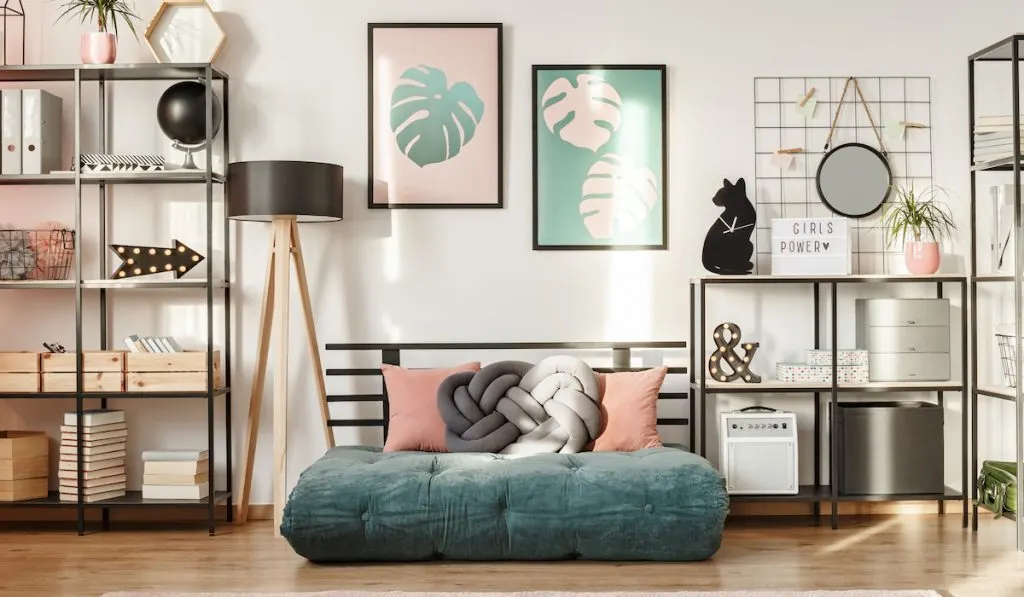 Positioning of the Futon
The positioning of a futon in the room matters a lot in determining how classy it will look.
First, you have to position your futon where it will often be used to entertain guests such as in the living room. Many homeowners are often tempted to tuck their futons away in the corners, because of the added sense of security the corners provide. However, futons are often designed to embrace open spaces and can be shown off confidently with the right placement.
Therefore, you will have to pull the futon away from the wall, even a few inches off, to give enough space around the furniture, making it look classy. This look is further complemented by an open floorplan if you have the design. Just don't block any lines of sight within the room or any pathways.
When deciding on the positioning of the futon, therefore, avoid pushing them against corners and walls, and always embrace an open, airy, and light approach to your space to get the best look out of your futon.
Add a Side Table
Side tables and accessories are a sure way of bringing out the classiness in futons. Side tables give a platform to launch other complementary features to the futon's space such as a potted plant, books, or even offering more storage spaces.
A uniform aesthetic for both the side tables and the futon will no doubt give the space a beautiful blend, making the futon look classy. If you are into it, you can invest in more tables, such as a central table, and smaller side tables for the futon, giving it a classy look.
Add a Rug or Carpet
Depending on your interior design style and that of the futon, you are free to compliment the space with suitable carpets and rugs, all adding to the visual appeal of the space.
When picking a rug or carpet for your space, however, remember you are on a mission to curate the best products with the highest quality for your space, among other considerations such as the patterns, designs, colors, and materials of the said accessories. Tribal interior decors, for example, will always blend in with a variety of intricate and elaborate patterns for an added sense of warmth and luxury to your space.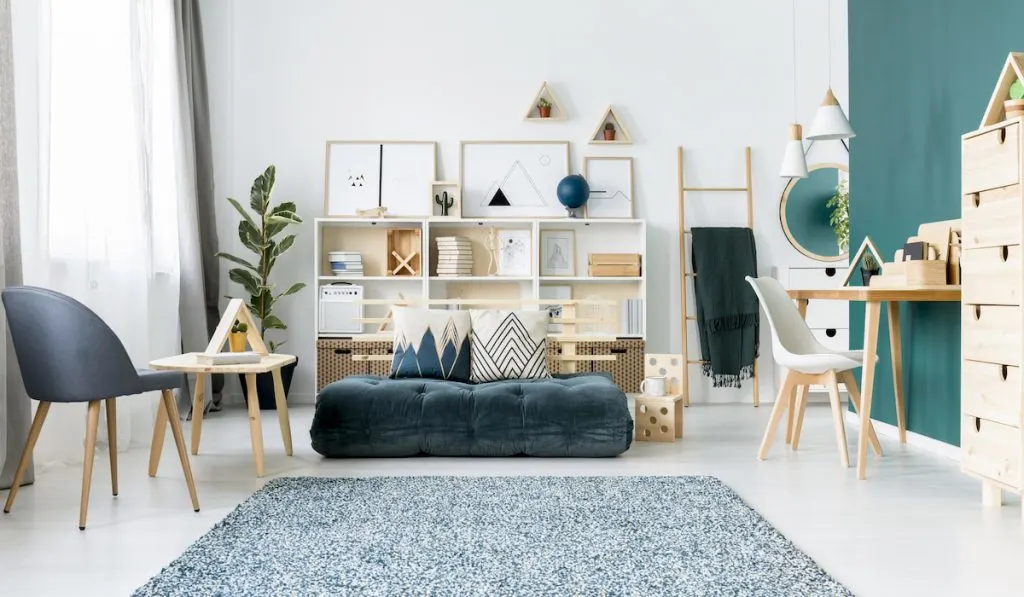 Add More Support between the Frames and the Mattress
Enhancing the futon's comfort, especially when using it as a couch, is highly important. You do not want your guests sitting on the futon and feeling the futon's frames uncomfortably pressing against them.
What do you do then, if your mattress is flattened out?
If you can't find someone who will professionally replace the mattress for you, you should acquire a second mattress that can be attached to the futon whenever the need arises.
This will boost the futon's look from the raggedy old flattened futon to the brand new comfy futon. Try it out and see the results.
Conclusion
Keeping your futon classy is all about maintaining it in the best shape possible, besides having it in a suitable and complementing space. Whether you are planning to purchase one or you already have one, the tips above will help you get the best out of your futon.
Depending on your preference, you can mix and match any of the tips above for an improved look. Either way, all will help you develop a better space provided that you do not go overboard with colors and patterns
Resources