What is the Mood Board Method?
*This post may have affiliate links, which means I may receive commissions if you choose to purchase through links I provide (at no extra cost to you). As an Amazon Associate I earn from qualifying purchases. Please read my disclaimer for additional details..
A mood-board is a well thought out and planned organization of materials, images, pieces of text, and samples of home décor objects, among others, to create a visual tool that visualizes and communicates our design ideas.
This method is popular with interior designers because it helps them to visualize their ideas to their clients.
Mood board designs allow collectors and designers to collect their feelings, thoughts, and ideas in one place.
This ideally helps them to iron out issues of doubts and confusion, if there are any, and helps them to clearly conceptualize and implore more creativity in their designs.
It also helps the designers to clearly capture the preferences of their clients such as their preferred colors and themes.
Significance Of a Mood Board
Mood boards are important in refining the design and project style before starting the actual design process.
They ensure that the project process is organized and inspired, and this helps a lot in keeping consistency with the preferences, expectations, and goals of the client.
Compared to investment in prototypes and mock designs, creating a mood board needs less time, resources, and maximizes on concepts and ideas to show.
Over the years, designs have proven to be hard to explain with words, but with visual help, this becomes a pretty simple task.
This is where mood boards step in. They clearly give details of how the end design will look like, as well as space to make suggestions and corrections, depending on the client's input.
Terms can also be hard to understand but as soon as visual expression is incorporated, clients find it easy to understand and express their feelings about the design.
Mood boards should be objective-oriented, specific, innovative, effective, and fun to use, as they excellently showcase ideas to clients, and they ideally give visual guidelines for achieving a certain design.
How To Create a Mood Board
There are no specific rules and guidelines to having a mood board design, but employing creativity and sticking to the constraints of the client's specifications guarantee you the best results.
The best way to learn a design is by creating and doing the design.
This applies to mood boards, as it could even lead to helping you find your own style and taste when trying to visualize different combinations.
Take your time to collect images that represent your exact thoughts on the things you like and would like to consider in realizing the design.
Your mood board can be focused on your home space, office, clothes, and other things you like, and how you would want them to be or expressed.
Ways to express your style include factors like the colors, textures, the common trends in the design and the feeling and emotion that you would want them to induce in the design space.
Creating mood boards is not achieved by reading about them, but rather doing the creations practically.
You can play with the available images in search of the perfect combinations while employing high forms of creativity until you are satisfied with the design visualization you create.
Remember to include keywords that will help explain your design visualization. A few keywords are good to give a description of the purpose of the mood board.
Tips For Achieving a Proper Mood Board
A designer is tasked with sourcing different resources for their mood boards depending on the board's aim and the preferences of the client.
What the designer chooses to include, therefore, varies for different boards.
It is however very important for the designer to ensure that the crucial elements needed for the desired look are included and fully expressed.
These crucial elements needed might be samples of fabrics, materials of the upholstery and curtains, lighting fixtures, and flooring tiles that are required for the client to be attracted to the design visualization.
They are basically pictures and illustrations that help the clients make a choice on the design.
Let's take a look at a few tips that could guide you to creating the best mood board for your desired style.
Set a Purpose and Direction For Your Project
Mood boards can be explorative or literal and practical.
Explorative mood boards are all about trying and monitoring different tones and moods for a design to have a pleasant look.
Practical and literal mood boards, however, use color schemes, fonts, and images of pieces that the client or designer plans to actualize and use when doing the real design.
Creating mood boards is about exploring the different options, possibilities, and outcomes that a style might give.
Do not, therefore, get attached to one particular form of mood board, but rather try blending the explorative and practical types for the best outcome.
It is good to note the crucial ideas to guide in actualizing the designs.
Include Relevant and Inspiring Images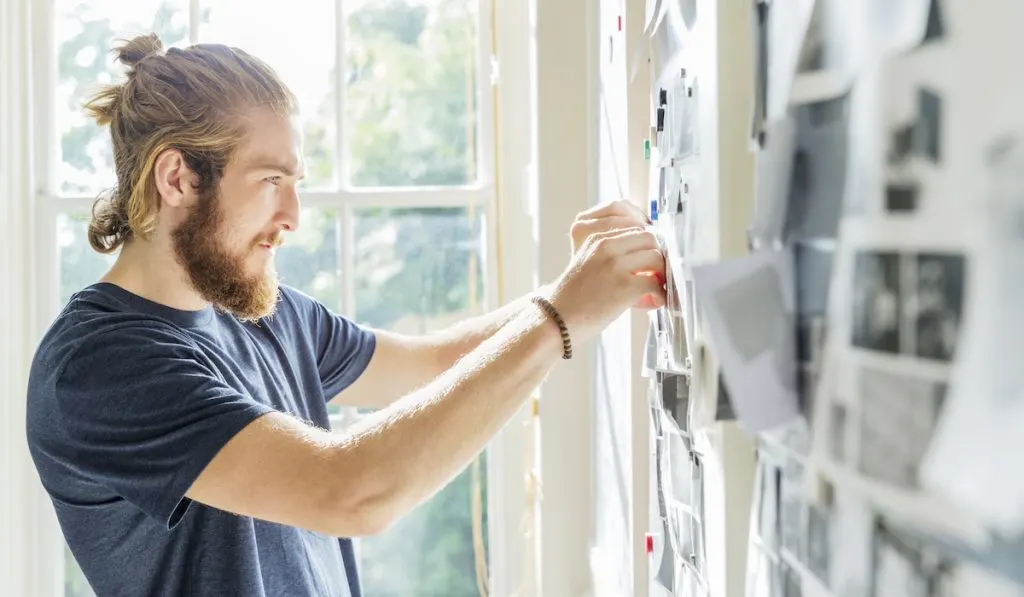 Images are basically what sell your mood board.
They have a big influence on the look and feel of the design.
They could be product images, brand images, logos, stock photography, and other visual enticements that define things like tone, lighting, cropping, and color.
Image organization is done after careful curation of the images that you want to include in your mood board.
Images are sourced from the designer's personal photo library and around the web.
Designspiration and Dribbble are among the sites that could help you curate pictures for your mood board.
Include Appropriate Colors
Finding an appropriate and fitting color palette for your mood board is important because the color chosen forms the basis for blending and incorporation of other elements into the desired design.
It is recommended to find a color palette that complements the design and brand that you are working with.
Tools like Kuler could prove to be of assistance when performing this task.
You can also pick colors directly from the photos and images that you are working with, provided that they would be welcoming and can be blended with other colors.
Include Visual Metaphors
When creating a mood board, it is important to include visual metaphors like motion, sound, and animation as they are the basic creative work crucial for branding and advertising.
Videos, animated GIFs, and audios often add motion and depth to the general appeal, look and feel of your mood board.
Organize Your Mood Board
An organized mood board always has the perfect composition, as all the features are clearly stipulated and well represented.
This task requires the designer to employ creativity since in most cases, there could be more materials to review than what is needed.
You should, however, arrange the ideas in a manner that is appealing and attractive to the clients.
Introducing hierarchy and exploring the composition of the mood board is a great position to start.
Key elements like logos are preferably placed at the top to anchor the mood board since they cannot be changed.
The remaining elements can be carefully distributed and scattered around the mood board at different positions and in varying sizes, clearly showing their relationships with each other.
Be Open To Inspiration
At most times, mood board design pieces are open to more suggestions and the addition of more pieces.
Inspiration to incorporate more design pieces is unpredictable, and you should, therefore, be keen and flexible to capture the new ideas, no matter where you find the inspiration.
It is, in this respect, good to have your eyes always on the lookout for inspiration catchers, as basically, anything could inspire a designer.
Explain Your Thoughts
Sometimes, elements included in the mood board need some explanation through the addition of context to show how the different elements in the visualized design would work together.
Mood boards may be invaluable to visual thinkers, as pictorials easily explain elements that words cannot.
However, if you are planning to share your design with your team or clients, it is good to include written texts like labels, and notes, that give a general explanation of your design pieces.
This will help keep everything else in context.
Written language expressed in words, metaphors, typographies, and galleries immensely impact the expression and exploration of the different combinations and weights.
At times, words tie into the message or brand of the design and should be conveyed or portrayed as important parts of the mood board.
Work On Building And Collaborating Your Ideas
When working with a team or working alone on a project, it's good to conceptualize and bounce ideas off other people for better results. The opinions of other people can prove invaluable to your desired design.
Digital mood boards have proved to be specifically flexible for this factor as all the players in the design can monitor and add in their suggestions and opinions in real-time,
This allows for efficient concept collaboration, giving your project a consistent feel and look.
Have clear fonts and textures
Mood board designs should always be clear with the fonts and textures used.
Designers should at least incorporate general font styles with the best visually-appealing designs as their specific fonts when incorporating text.
It is always important to include all the textures and patterns that are used in a mood board design for a clear distinction.
Conclusion
Mood boards are good and are there to help you conceptualize the best design that you want for projects you are working on.
The sky is the limit for this method.
It helps you to explore various combinations among different designs and styles that fit not just your likings and tastes, but also your client's.
Resources