*This post may have affiliate links, which means I may receive commissions if you choose to purchase through links I provide (at no extra cost to you). As an Amazon Associate I earn from qualifying purchases. Please read my disclaimer for additional details..
What pops up in your head when you think of industrial-style design?
Well, say exposed pillars on walls, exposed pipes, and finishing, utilitarian wooden or metal furniture, and even the sleek designs. Everything is raw, natural, and edgy. Industrial interior designs are a common sight in pubs, malls, restaurants, and even offices.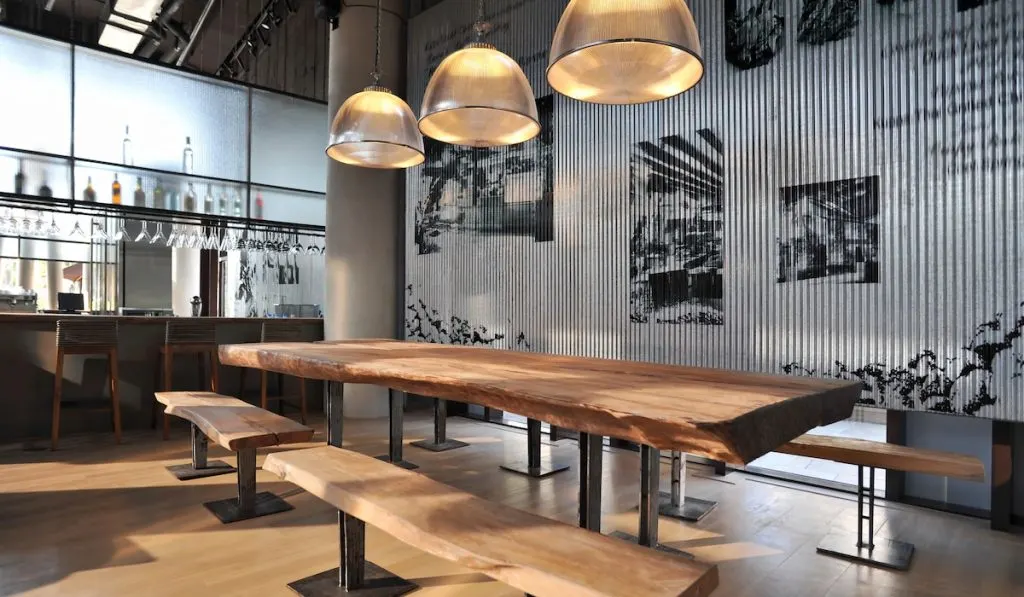 Besides the application in public places, industrial style designs are a good fit for small interior spaces too, and can beautifully mix and blend in with other design styles.
Since the style is fast gaining ground and popularity, interior designers are literally on the hunt with the limitless possibilities of mixing, matching, and blending different looks within this interior design style.
So, what is industrial interior design style? How do you distinguish the style? Read on for what you need to know about this popular style.
What is Industrial Style Interior Design?
An industrial style interior design is a design method inspired and influenced by the look and feel of warehouses and factories. It embraces architectural elements like ductwork and piping and makes them the focal points within the respective space.
This style has its roots tracing back to the 1970s in the USA and England where old industrial structures needed to be repurposed and converted into living spaces. Among the other common distinguishing features are the exposed structural features, repurposed objects, wood, metal, brick, and concrete textures.
Over the years, this style has slowly crept into homes. Imaginative designers never tire of giving their clients endless suggestions of how to improve their interior designs with this specific style. This way, the industrial style interior design has been largely accepted and adopted in contemporary homes.
Characteristics of Industrial Style Interior Design
Exposed architectural materials
Regarded as the most outstanding feature in this style, the industrial style interior design proudly shows off the exposed architectural elements instead of concealing them.
This exposed finishing includes unfinished walls, exposed pillars and the skeleton of the building, steel and wooden beams, exposed piping, and ductwork among other things that cumulatively serve as brilliant art in your industrial space.
To complete the look in your space, use metals like iron, stainless steel, copper, aluminum, concrete, bricks, reclaimed wood, or glass. For the furniture, fine linen or leather will give the perfect finish.
Neutral Color Palette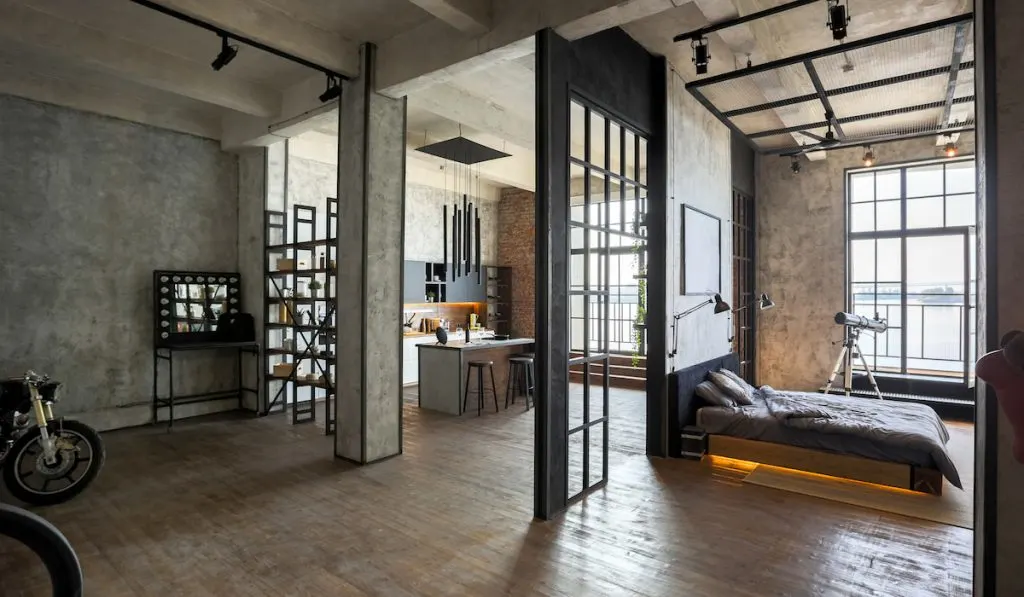 Maintaining a neutral color palette is the foremost rule for this style. Unlike other minimalist designs, shades of white are not welcome here, but the style goes well with shades of greys, black, and brown. It is also not advisable to go with all of them, but rather, choose the best color that complements your space.
However, if you want to emphasize certain distinct spaces with your colors, try out shades of dark green, brick red, or burnt orange. It is best to go with just one hue to make a bold statement.
Flooring
The industrial interior design goes well with polished concrete, wood, or stone flooring. Regardless of the one you choose between the three, your space will have a subtle yet warm atmosphere.
Rugs do not go well with this design, but since you can always try out even the weird stuff to find your true taste, adding a small neutral rug to the floor might add to your living space a little feeling of warmth and comfort.
Bare Windows
The industrial-style décor features large classic industrial windows with no shades, or at times, black panes arranged in a grid pattern, with the large metal ribs that make the window panes pop. This helps increase the much-needed natural light in the room to complement the industrial look.
For this style, you don't have to necessarily use any window covers. Instead, they should be left the way they are for that top-notch look. However, if you must use a cover for your windows, go for a simple and elegant roller shade.
Lighting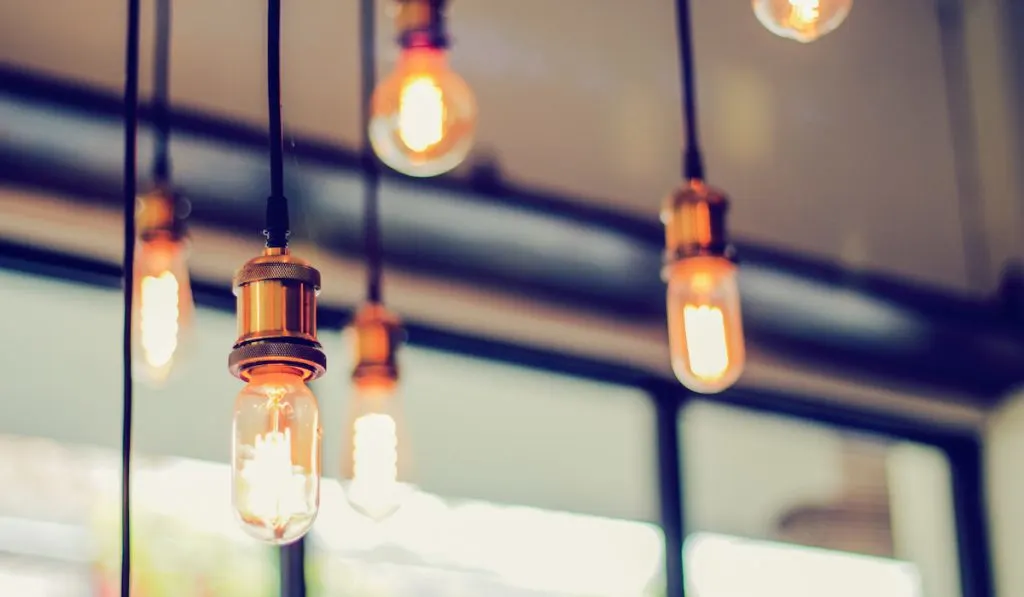 Not only does the concept of exposure affect the structural design of this décor style, but also affects the lighting choices too.
In this case, the most basic light bulbs, preferably Edison-style light bulbs, are ideal for this setting because the open-scale housing displays the bulb's simple interior workings. These bulbs could be hanging on their own or in a group as a chandelier.
You can also incorporate floor lamps, table lamps, pendant lamps, and hanging lamps to complement the industrial look if you want less bare lighting.
Concrete Stair Treads
Besides the exposed concrete and brick walls, concrete stair treads enhance the industrial style design, making a great addition to the look and feel of the interior décor.
Concrete stair treads are most suited for industrial décors with concrete floors because they give a seamless and uniform look that complements the décor. Besides being a great theme for your interior spaces, concrete stair treads do not rust and are durable.
Furniture
Unlike other interior decors, the industrial décor appreciates most, if not all forms of furnishing, and you will often find repurposed furniture around the space. Most of these pieces of furniture have strong and clear lines but with a low profile.
The repurposed furniture could include a large wooden chunk used in place of a coffee table, a repurposed dining table, or an elegant bookshelf made of re-purposed materials. Either way, this style readily accepts natural elements into the metal-dominated design.
Graphic Lines
The industrial-style décor loves and appreciates clean graphic lines, whether it is on bar stools or the windowpanes, provided they are made of black metals and not sinuous patterns or lines. However, do not confuse this attribute with that of the famous art deco style which emphasizes bold, metallic colors.
Vintage Pieces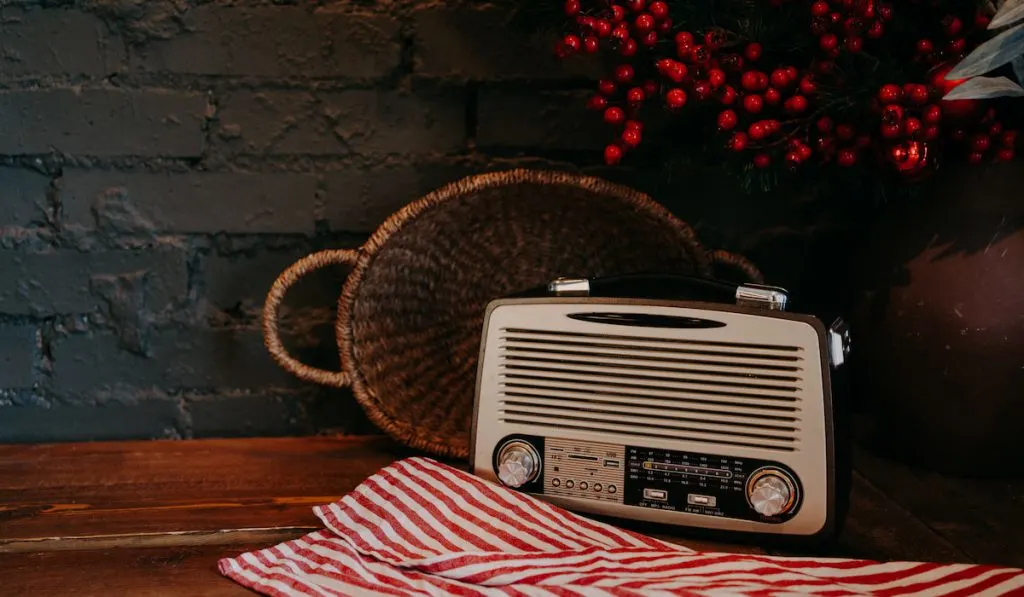 Since the industrial style combines both the contemporary designs and the vintage, adding vintage pieces to the interiors could be a great complement to the general décor and furnish.
Although most people love classic furniture pieces, many are inspired by the old look factory pieces. Among the common vintage pieces in this style are the classic draftsman chair and the industrial kitchen bars.
Although it is not advisable to have rugs and carpets, having a vintage rug with muted colors in your living space gives your space a touch of softness as well as gives the general décor more depth. However, if your space looks dull and deserves a little bit of lightening up, use a slightly faded carpet or rug.
How do You Blend Industrial Décor with Chic or Modern Décors?
When doing your interior décor with the industrial style, the sky is the limit since this style is raw and relies on simplistic features, making the incorporation of contemporary pieces easy.
To achieve an industrial-chic look might be a little difficult, but when done right, it is nothing but pure bliss and beauty.
Incorporating chic furniture with the exposed architectural settings creates a calm and casual space beside the elegant colors of blues, reds, greens, and purples that add a sense of personality to the space.
For a modern industrial look, on the other hand, it is best to focus on straight lines such as in glasses or metals, as well as the brightness of the lighting. The industrial design, however, insists on keeping its pieces antique and unpolished, while the modern designs insist on polishing metal surfaces. Either way, blending the two creates a sharp yet beautiful contrast that complements both styles.
Conclusion
The industrial-style décor gives a limitless space for you to try and experiment on whatever piece you want to add. What makes it even more interesting is that this décor style is always a work in progress, so there is no rush in curating pieces for your spaces in a manner most appealing to you.
Resources